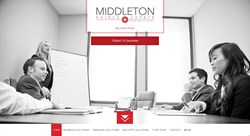 This is an unique web design style for a CPA firm
Houston, Texas (PRWEB) October 08, 2013
HubSpot Gold Partner and Inbound marketing agency, Adhere Creative is proud to announce the launch of an innovative new parallax website for Houston CPA firm, MiddletonRaines+Zapata. The site was built on HubSpot new Content Optimization System (COS).
MiddletonRaines+Zapata's new website is built on the brand new HubSpot COS. The HubSpot COS system is the next generation of responsive design and smart content management. It is designed to create a personalized user experience and superior accessibility whether viewing a site from a desktop, laptop, tablet, or smartphone. The new HubSpot COS offers MiddletonRaines+Zapata a powerful suite of marketing tools.
HubSpot's COS speaks directly to the user experience and serves businesses like never before. The truly distinctive feature of COS is that it provides assimilation to content, social media, marketing automation and analytics tools that merge impeccably and connect to the business's contact database to create a logical conversation with contacts based on their interests and actions.
"This is an unique web design style for a CPA firm," explains Jon Feagain, Art Director at Adhere Creative. "It's meant to match the innovative way MiddletonRaines+Zapata performs as a company. They deliver strategy and ideas to help improve their client's financial position and are setting out with a unique marketing position for a Houston CPA firm."
Adhere Creative is a Houston based inbound marketing agency that develops comprehensive marketing solutions. Their approach ensures that each element of the marketing mix provides a function determined by the clients individual corporate goals.
For more information on Adhere Creative, please visit: http://www.adherecreative.com.
For more information on MiddletonRains+Zapata please visit: http://www.middletonraines.com.