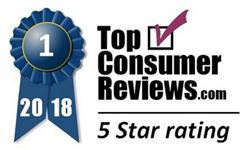 In 2018, we're pleased to name Surgent CPA Review as our first choice among programs offering CPA Exam review programs.
OVERLAND PARK, Kansas (PRWEB) August 15, 2018
TopConsumerReviews.com recently awarded their highest rating to Surgent CPA Review, an industry leader among CPA Exam Review programs.
In order to work as a CPA, aspiring accountants must pass the industry's gateway exam. This four-part test challenges even the brightest students, and for this reason there are several services to help test-takers pass with flying colors. When choosing a CPA review service, it's important to make sure that the materials they offer are up-to-date; the exam was changed dramatically in 2017, with a new structure that includes extra emphasis on higher-order skill, critical thinking, and new AICPA blueprints that guide students in what they need to study to achieve a passing score. The best CPA Exam Review programs have the most current information available as well as study materials in a variety of formats such as videos, written guides, and audio lectures.
"Surgent CPA Review makes it easy and affordable to study for the CPA exam," according to Brian Dolezal, of TopConsumerReviews.com, LLC. "If you're not sure what you need to focus on, Surgent's adaptive testing focuses on your weakest areas of knowledge. Before you buy, you can participate in a live, interactive demo of their program to make sure it's a good fit. You can also try Surgent free for 5 days prior to purchase. They update their materials weekly, and have one of the best pass rates in the industry at 89.7% (national average is 49.3%). In 2018, we're pleased to name Surgent CPA Review as our first choice among programs offering CPA Exam review programs."
To find out more about Surgent and other providers of CPA Reviews, including reviews and comparison rankings, please visit the CPA Reviews category of TopConsumerReviews.com at https://www.topconsumerreviews.com/cpa-review/.
About Surgent
While Surgent CPA Review is a young company, its founders are no strangers to the accounting or education spaces. The Exam Prep division was born out of Surgent, a 30-year leader in tax, accounting, and finance professional education. Since Surgent CPA Review's launch in August of 2015, the company has quickly become the fastest-growing exam review course in the industry. Its trademark A.S.A.P Technology delivers an algorithmic-based adaptive learning experience that is targeted to an individual's unique areas of need. Surgent students save up to 400 hours of study time, and achieve pass rates that are nearly double the national average.
About TopConsumerReviews.com
TopConsumerReviews.com, LLC is a leading provider of reviews and rankings for thousands of consumer products and services. From CPA Exam Reviews to Resume Builders and Student Loans, TopConsumerReviews.com delivers in-depth product evaluations in order to make purchasing decisions easier.