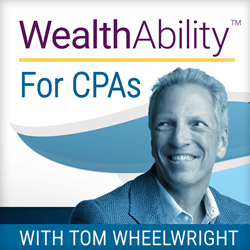 The WealthAbility™ for CPAs Show podcast will help accounting professionals attract better clients, build better businesses, and have a better life. - CPA, CEO and Tax-Free Wealth Author Tom Wheelwright
TEMPE, Ariz. (PRWEB) April 17, 2019
CPA, CEO of WealthAbility™ and Podcast Host Tom Wheelwright announces the launch of The WealthAbility™ for CPAs Show on April 17, 2019. This podcast will educate CPAs how to go way beyond crunching numbers to helping clients reach their financial dreams with a long-term tax-free wealth strategy.
Based on 30 years of building tax and strategy firms, CPA and Tax-Free Wealth Author Tom Wheelwright explains, "The WealthAbility™ for CPAs Show podcast will help accounting professionals attract better clients, build better businesses, and have a better life. By focusing more on tax and wealth strategy, CPAs can create tax-free wealth for clients, increase job satisfaction and build their own wealth."
The WealthAbility™ for CPAs Show will cover a wide variety of wealth-building topics, for accounting professionals, including:

How CPAs can work on a higher strategy level that is way beyond entering numbers into tax software.
How to build a long-term tax strategy and retain loyal clients.
How to streamline business processes so your office can work without you.
How to be a proactive architect who helps clients finance their dreams.
How to develop systems, processes and tactics that can make CPA firms more productive and profitable.
Listeners will learn how to "run a successful business practice that runs itself." And with automation and robots likely replacing "number crunching" in 5-10 years, long-term strategic planning will be the most valuable service CPA firms can offer.
Another key reason Wheelwright is launching The WealthAbility™ for CPAs Show
podcast now is that the Tax Cuts and Jobs Act of 2017 has created mass confusion in the industry. Many CPAs were not ready for this tax season, and the accounting industry must embrace this massive tax law change. Wheelwright's new podcast will help CPAs overcome these challenges:

The New Tax Law is over 1000 pages and complex.
CPAs are still learning how to interpret the new tax law. Words matter a lot in the tax code, and the IRS hasn't finalized all of their regulations.
CPAs are still learning what questions are important to ask their clients for the new tax law.
CPAs are still learning new forms that we did not have in the past
CPAs are still learning new elections that you might have to make.
The CPA software isn't doing everything for the tax preparer this year, so it's a bigger burden for tax preparers to do manual calculations.
CPAs may not have the staff to handle the additional workload needed to maximize savings for each return.
About the WealthAbility™ Network
To help CPAs build a successful business and create wealth, Wheelwright also launched the WealthAbility™ Network, a global network of CPAs dedicated to helping CPAs guide clients towards achieving "tax-free wealth." After completing the certification process, CPAs in this network may be referred clients by WealthAbility™. The four pillars of certification include Training and Education, Teambuilding, Systems and Procedures, and Mission and Identity. Members receive exclusive, in-depth instruction on how to apply proven wealth-building and tax-saving strategies from Wheelwright's best-selling book, Tax-Free Wealth: How to Build Massive Wealth by Permanently Lowering Your Taxes. In addition to private, in-person mastermind events and personalized coaching, members will receive ongoing training for building a profitable, innovative accounting practice that serves high-caliber clientele. To join the WealthAbility™ Network, a CPA must have an existing practice, tax consulting experience, a strong desire to improve the way they serve their clients and pass all necessary certification tests. https://wealthability.com/thenetwork/
New Podcast
The WealthAbility™ for CPAs Show
https://wealthability.com/cpapodcast
Book: Tax-Free Wealth 2nd Edition (with New Tax Law Updates)
https://wealthability.com/tfwamazon
Media Contact
Liz Kelly, 310-987-7207
About
Tom Wheelwright is a CPA, CEO of WealthAbility™, Best-Selling Author of Tax-Free Wealth (Rich Dad Advisors Series), Host of The WealthAbility™ Show with Tom Wheelwright CPA and the NEW Podcast: The WealthAbility™ for CPAs Show, Speaker and Entrepreneur Magazine Contributor. Tom is best known for making taxes fun, easy and understandable, and specializes in helping entrepreneurs and investors build wealth through practical and strategic ways that permanently reduce taxes. As a Rich Dad Advisor to Robert Kiyosaki (Rich Dad Poor Dad), Tom frequently speaks at conferences worldwide to entrepreneurs on these topics. His work has been featured in Accounting Today, The Wall Street Journal, Forbes, Investor's Business Daily, Consumer Reports, FOX & Friends, ABC News Radio, Marketplace, and many more media. http://wealthability.com