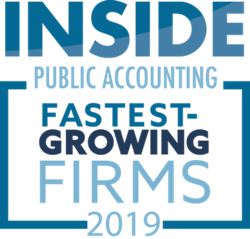 "We are excited to congratulate Frazier & Deeter, LLC, for this recognition," said Alan Deichler, president of CPAmerica. "Being one of only ten firms recognized for their annual growth is very impressive."
GAINESVILLE, Fla. (PRWEB) August 28, 2019
CPAmerica member firm Frazier & Deeter, LLC, is being recognized for their accomplishments in INSIDE Public Accounting's (IPA) 2019 Fastest All-Growth Firms. IPA identifies the 10 fastest-growing IPA 100 firms based on reported organic growth in net revenue, without the influence of mergers. While growth with mergers represents the true growth, isolating organic growth provides insight into the strength of the growth engine of the firms.
"We are excited to congratulate Frazier & Deeter, LLC, for this recognition," said Alan Deichler, president of CPAmerica. "Being one of only ten firms recognized for their annual growth is very impressive."
To view the full list of INSIDE Public Accounting's 2019 Fastest All-Growth Firms, please visit: http://blog.insidepublicaccounting.com/2019/08/congratulations-to-the-2019-ipa-100-all-growth-fastest-growing-firms/.
About CPAmerica, Inc.:
An accounting association made up of independent certified public accounting firms that built on four key goals: to continuously improve; to make more money; to strengthen relationships among member firms; and to bring prestige to firms both domestically and internationally. As a member of the eighth largest global accounting network Crowe Global, CPAmerica expands to over 200 independent accounting and advisory services firms in 130 countries, and has a combined firm revenue of $4.3 billion. Learn more about CPAmerica at http://www.cpamerica.org.
About Frazier & Deeter
Frazier & Deeter is an award-winning accounting and advisory firm that serves clients from global corporations to growing businesses by accounting for today while advising for the future.
With 10 offices across the U.S. and U.K., the FD family of brands provides expertise across a wide range of tax, audit, accounting, compliance and advisory services to support the complex, evolving needs of the firm's clients.
Frazier & Deeter has been named one of the Top Accounting Firms to Work For and one of the Fastest Growing CPA firms among the top 100 firms in the U.S. by Accounting Today magazine. Frazier & Deeter has also been repeatedly named a Best of the Best CPA firm by INSIDE Public Accounting and a Top Firm for Women by The Accounting MOVE project.