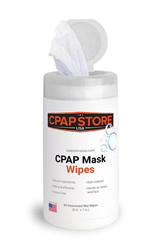 CPAP Store USA announced today the launch of its own CPAP Store USA brand.
LAS VEGAS (PRWEB) September 26, 2020
CPAP Store USA, a leading provider of world's finest CPAP machines, supplies and respiratory products for more than 18 + years, announced today the launch of its own CPAP Store USA brand. The multi-location retail store and the leading online CPAP store will now be selling to the public its own brand of CPAP supplies, including CPAP wipes, CPAP tubing, CPAP Filters, Chinstraps, CPAP machine travel bags and backpacks along with other CPAP supplies.
On September 25, 2020 CPAP supplies will appear on the store shelves and online under the CPAP Store USA brand. That is set to expand to 150 products by late of next year.
"This is an exciting change for us, a major step forward and marks a strategic pivot in our future direction," said Marina BerBeryan, Ambassador of CPAP Store USA. " CPAP store USA brings forth an expanded commitment to all of our customer and CPAPers. In the spirit of evolution, we will continue to bridge new gaps while simultaneously expanding our resources, solutions and our store across the nation and the CPAP community."
CPAP Store USA aims to provide affordable options for all major CPAP brands such as ResMed, Philips Respironics, Transcend, Fisher & Paykel and CPAP Store USA. The store-front retail offers a selection of hundreds of CPAP masks and machines, along with many other CPAP Supplies. CPAP Store USA is now accepting Health Savings Accounts (HSA) and Flexible Spending Accounts (FSA). Financing is also available with zero down and low monthly payments with CareCredit.
More than 100 million people are estimated to suffer from obstructive sleep apnea (OSA) worldwide. Obstructive sleep apnea is a common and serious sleep disorder that causes a person to stop breathing during sleep. The airway repeatedly becomes blocked, limiting the amount of air that reaches the lungs. Some of the symptoms include snoring loudly or making choking noises as a person tries to breathe. The brain and the body becomes oxygen deprived and sleep apnea treatment and prescribed.
About CPAP Store USA About CPAP Store USA: CPAP Store USA is an authorized store-front dealer and one of the largest online retails in today's market. The nationwide multi-location CPAP supply store, (including CPAP Store Las Vegas, CPAP Store Los Angeles, CPAP Store Agoura Hills and CPAP Store Dallas Fort Worth) offers CPAP and other sleep aid supplies for sleep apnea patients. Our warehouse carries over 4,300 different CPAP equipments including CPAP & BiPAP machines and masks, humidifiers, tubbing, oxygen tanks, CPAP sanitizers, power supplies and other CPAP products. Being in business for over 18 years, we understand adopting to the necessary new lifestyle changes required by the CPAP therapy and it is our goal to make our customers purchasing experience at our retail and online stores as convenient and easy as possible.
CPAP Store USA National Locations:
CPAP STORE USA
3325 W Desert Inn Road, Suite 201
Las Vegas, Nevada 89102
https://www.CPAPStoreUSA.com
(888)512-7278
CPAP STORE LAS VEGAS
3325 W Desert Inn Road, Suite 301
Las Vegas, Nevada 89102.
https://www.CPAPStoreLasVegas.com
(800) 479-1308
CPAP STORE LOS ANGELES
1551 N. La Brea Ave, Unit A,
Los Angeles, California, 90028
https://www.CPAPStoreLosAngeles.com
(800) 479-1308
CPAP STORE AGOURA HILLS
5160 Kanan Road
Agoura Hills, California, 91301
https://www.CPAPStoreAgouraHills.com
(888)223-1605
CPAP STORE DALLAS
3920 Rosemeade, Suite 150
Dallas, Texas 75287
https://www.CPAPStoreDallas.com
(800) 598-0524
CPAP STORE DALLAS FORT WORTH
5205 Davis Blvd, Ste G
North Richland Hills, Texas 76180
https://www.CPAPStoreDFW.com
(800)940-0327
CPAP Store USA International Locations:
CPAP STORE ARMENIA
16 Tigran Mets Ave,
Yerevan 0010, Armenia
16 Tigran Mets Ave, Yerevan 0010, Armenia
https://www.CPAP.am
+374 77 160628
CPAP STORE LONDON
Unit B, 25 Curzon St, Mayfair,
London W1J 7TG, United Kingdom
https://www.cpapstorelondon.co.uk
+44 7827 777267
Follow CPAP Store USA at
Facebook: @CPAPstoreUSA
Twitter: @CPAPstoreUSA
Instagram: @CPAPstoreUSA
LinkedIn: @CPAPstoreUSA
Google+: @CPAPstoreUSA
Yelp: @CPAPstoreUSA
Hollywood Times PR
Olga Love
HollywoodTimePR(at)aol(dot)com