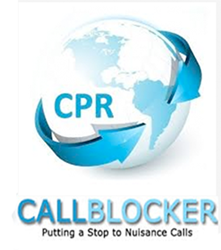 NEW YORK (PRWEB) February 26, 2015
Aiming to protecting vulnerable adults from unwanted and predatory phone calls, CPR Call Blocker has announced the launch of its newest Call Blocker V202 unit, designed to block unwanted calls from telemarketers, scammers, collection agencies, robo callers and even robo faxes that manage to bypass national Do Not Call registries and other call blocking technologies.
The Call Blocker V202 is designed for aging and retired consumers who need a larger, more readable display screen and comes pre-programmed to automatically block all rogue calling telephone numbers known to the Do Not Call Registry. It also has the capacity to block up to 1,200 numbers belonging to anyone whose call is not welcome.
According to the National Do Not Call Registry Data Book 2014, more than 22 million complaints about telemarketing calls were logged in 2014 alone. With laws governing telemarketers and other nuisance callers routinely side-stepped by aggressive companies, and America's aging population becoming more vulnerable to unscrupulous scammers every day, consumer demand for call blocking technology that is dependable and easy-to-use is at an all time high.
At the touch of the large red, "Block Now" button at the top of the unit's 3-inch display screen, users can instantly halt any unwanted incoming call that appears, and that number remains permanently blocked. Users can block numbers under a specific area code, international numbers, private numbers and even masked numbers that often slip past other call blocking protocols.
Any consumer with a landline and Caller ID service can easily install the CPR Call Blocker by simply plugging it in to any home phone line, even those with broadband, digital PBX systems or analog sockets. Users have the ability to block nuisance callers from DECT extension handsets by pressing #2, and to put an end to harassing callers, stalkers, cold calls, silent calls, Skype-style nuisance calls, overseas call centers, rogue faxes and unwanted recorded messages.
CPR Call Blocker makes the new V202 unit available through Amazon.com. Additional Call Blocker models are also available, including one for mobile phones. For information on all Call Blocker models, visit the CPR company website at http://www.cprcallblocker.com, email info(at)cprcallblocker(dot)com, or call 408-872-6822.
About CPR:
One of the world's best-selling and most trusted call blocker brands, CPR Call Blocker developed out of a need to block personal harassment calls that CPR's sister company Call Prevention Registry was unable to block for its customers.
The CPR Call Blocker helps home owners and businesses solve their nuisance call problems in more than twelve countries worldwide including the U.S., UK, Australia, France, Germany, Spain, Ireland and the Netherlands. CPR's ongoing mission is to develop new ways to stop the ever-growing problem of nuisance calls, and deliver regular product updates every six months to ensure that all CPR Call Blocker units remain one step ahead of insidious call industry technology.
###