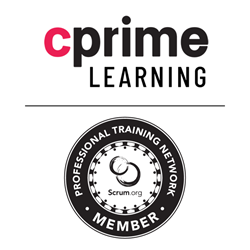 By becoming a member of the PTN, Cprime has proven that they are providing only the highest quality, most consistent Scrum training - Dave West, CEO, Scrum.org
SAN FRANCISCO (PRWEB) March 23, 2021
Cprime, a leading Agile, Atlassian and DevOps consulting company, announced today that it has joined the Scrum.org Professional Training Network (PTN) and will now offer Scrum.org training courses through their extensive training catalog.
Cprime Learning, Cprime's training and certification division, will now offer four new certification courses accredited by Scrum.org, including Professional Scrum Master, Professional Scrum Master II, Professional Scrum Product Owner, and Professional Scrum Product Owner II. These courses equip participants with the knowledge and skills to pass the exam and earn an industry-recognized Professional Scrum certification.
"We are excited to add these courses into our learning offerings," said Anne Steiner, Vice President of Product and Technology. "Scrum.org certifications are highly respected in the Agile community, and we can now offer our clients the ability to earn these certifications."
To become a recognized member of the Scrum.org PTN program, Cprime had to meet strict requirements set by Scrum.org. The requirements included demonstrating their dedication to Scrum.org training through the planned use of Professional Scrum Trainers as well as a formal commitment to adhere to the code of conduct put in place by Scrum.org to ensure students are receiving an excellent training experience.
"Inconsistent teaching of the Scrum Framework often causes Scrum teams to struggle with the concepts as they learn from different teachers or companies," said Dave West, CEO, Scrum.org. "By becoming a member of the PTN, Cprime has proven that they are providing only the highest quality, most consistent Scrum training."
Scrum.org certified courses are available at Cprime.com/learning, with sessions available through the end of the year. All Scrum.org certification courses are offered live-online for individuals as well as privately for teams of 8 or more.
About Cprime
An Alten Company, Cprime is a global consulting firm helping transforming businesses get in sync. Cprime was awarded the Atlassian Agile Partner of the Year for 2019, and also the partner of choice for Fortune 100 companies looking to achieve value and agility. Cprime helps visionary business leaders compose solutions, execute implementations, and exceed against business goals.
With key partnership recognitions, including Atlassian Platinum, AWS Advanced, and SAFe Gold Partner, Cprime industry-leading software and services work in synergy to deliver transformations. Follow Cprime on Twitter and LinkedIn at @CprimeInc.
About Scrum.org
Based on the principles of Scrum and the Agile Manifesto, Scrum.org provides comprehensive training, assessments and certifications to improve the profession of software delivery. Throughout the world, our solutions and community of Professional Scrum Trainers empower people and organizations to achieve agility through Scrum. Ken Schwaber, the co-creator of Scrum, founded Scrum.org in 2009 as a global organization, dedicating himself to improving the profession of software delivery by reducing the gaps so the work and work products are dependable.
Visit Scrum.org for further information on the organization's Professional Scrum assessments, training and global community; follow them on Twitter @scrumdotorg and read more from their community of experts on the Scrum.org blog.