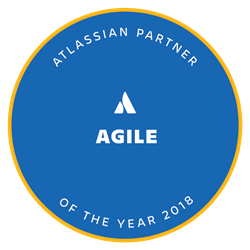 cPrime is proud to have received this award recognizing our focus and expertise in the Agile space
SAN FRANCISCO (PRWEB) September 10, 2018
Atlassian announced today that cPrime has received Atlassian Partner of the Year 2018: Agile for their outstanding contribution and achievements during Atlassian's fiscal year 2018. This includes exceptional efforts in developing new business, thought leadership, and products and services that complement Atlassian. cPrime was one of 15 recipients honored as Partner of the Year during the Atlassian Partner Day at the company's European Summit in Barcelona, Spain.
"Atlassian is thrilled to recognize and honor our 2018 Partner Award recipients," said Martin Musierowicz, Atlassian's Head of Global Channels. "Solution Partners are instrumental to our customers' success and we are excited to be able to highlight some of our top partners who are going above and beyond to support customers and provide Atlassian services."
"cPrime is proud to have received this award recognizing our focus and expertise in the Agile space," said Brandon Cipes, Head of Technology Delivery. "We continue to implement Agile and DevOps transformations for the world's largest companies and Atlassian is one of our most critical partners in that success."
An ALTEN company, cPrime is how transforming businesses get in sync. With training and tools that deliver performance, cPrime is the partner of choice for more than half of the Fortune 100, helping their visionary business leaders compose solutions, coordinate implementations, and perform against business goals. As a leading Agile and DevOps consultancy firm, Atlassian Platinum Solution Provider, and Gold SAFe Partner, cPrime's software and talent expertise work together to deliver successful transformations. For more information, please visit http://www.cprime.com. Follow cPrime on Twitter at @cPrimeInc.