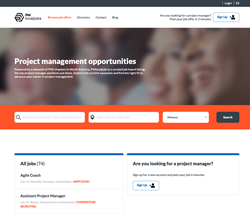 "The job portal, which is an invaluable way for recruiters to reach a very specific community of professionals, is an added value to our membership that lets us centralize job searches and help members in their professional development." Lori J. Gacioch, President of the PMI Rochester Chapter
SAINT-SAUVEUR, Quebec (PRWEB) July 27, 2020
Marketing services agency CPS Network has launched pmlocaljobs.com, a talent recruitment portal creating a new revenue stream for chapters of the Project Management Institute (PMI), a professional membership association.
CPS Network's pmlocaljobs.com is a white-label solution for local chapters of the PMI, meaning that the web page displays the PMI logo and chapter designation. PMI has more than 500,000 members divided into 300 local chapters internationally. PMI serves its membership with events, webinars and professional development resources, and also issues the Project Management Professional (PMP)® and other recognized certifications.
With pmlocaljobs.com, recruiters can post job opportunities on a centralized portal that is promoted by CPS Network's PMI chapter partners. In turn, PMI chapters benefit by exposing their members to employment opportunities and earning revenue from job postings—revenue that gets reinvested in member services and the local project management community.
With the new job portal still in beta mode, CPS Network has been working with the 10 PMI chapters in Canada and the US to optimize the portal for chapter use. Now that the job site portal has been adopted by these 10 chapters, with a reach of 30,000 project management professionals, CPS Network is making it available to PMI chapters worldwide.
The PMI Rochester Chapter in New York was one of the early adopters of the CPS Network talent recruitment website. "Our members see our Chapter as a go-to source for opportunities," said Lori J. Gacioch, President of the PMI Rochester Chapter. "The job portal, which is an invaluable way for recruiters to reach a very specific community of professionals, is an added value to our membership that lets us centralize job searches and help members in their professional development."
"These professional membership organizations provide important services to our business communities and to the world at large," added Jean Thibault, President of CPS Media, the parent company of CPS Network. "We are delighted that we can contribute to the financial vitality of these organizations," he concluded.
About CPS Network
CPS Network is a division of CPS Media, Inc. CPS Media and CPS Network provide institutions and associations with turnkey commercialization services that generate value and increase revenues. Founded in 1989, CPS Media is headquartered in Saint-Sauveur, Quebec, Canada. For more information, call 1-866-227-8414 or visit cpsnetwork.com or cpsmedia.ca.