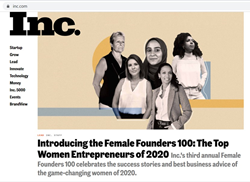 "Think big and be bold,you don't get what you don't ask for!" - Elisabete Miranda, President & CEO of CQ fluency
HACKENSACK, N.J. (PRWEB) October 27, 2020
Translating The American Dream: How CQ fluency's CEO is Improving Lives Through Language
CQ fluency, a global language services company, is proud to announce that President and CEO, Elisabete Miranda, has been included in Inc Magazine's 100 Female Founders of 2020. Having grown from a small LSP based in New Jersey to a global player in the industry, Elisabete is honored to shed a spotlight on her American Dream story as she stands alongside some of the world's most influential businesswomen who are creating meaningful, widespread change.
The list, which began in 2018, includes innovative women in their respective industries, who are paving the way for change through sustainable business strategies that leave a lasting social and economic impact. Past honorees include Tracee Ellis Ross and Rihanna, while this year's list features Jessica Alba.
Emigrating from Brazil in 1994, and having no knowledge of the English language, Elisabete faced a litany of social barriers in an unfamiliar environment. She found that learning a new language was not as difficult as adapting to the culture. Elisabete experienced a true "lost in translation" communication when she received an urgent call from her 7-year-old daughter's school. This call was regarding her daughter's health as the school feared she had tuberculosis. "Eventually finding a physician that understood their cultural profile was so important" stated Miranda, "we found a doctor who knew that in Brazil you are vaccinated against Tuberculosis and when tested, it creates a false positive result." For Elisabete, that experience illustrated how cultural understanding is critical in the healthcare industry to provide multicultural communities with quality care. "I knew I needed to make it my mission to improve lives," continued Miranda, "CQ fluency was born out of the necessity to transform communications in healthcare, because we focus on not simply translating words but improving lives through culturally relevant translations."
Elisabete is adamant that her success is attributed to passion, hard work, dedication, and thinking outside the box to turn a personal struggle into a collective solution. Her advice for other entrepreneurs:
"Think big and be bold,you don't get what you don't ask for!"
Today CQ fluency partners with major players in the life sciences and healthcare industries like Merck, UnitedHealth Group, Aetna, Pfizer and many more to develop solutions to drive health equity.
CQ fluency, a certified Minority & Woman Owned Business (MWBE) is no stranger to Inc's esteemed awards, having been named to the 5000 Fastest Growing Companies list for seven consecutive years.
About CQ fluency
CQ fluency is a global company that offers a full suite of culturally relevant translation services for the life sciences and healthcare in over 170 languages. We are on a mission to improve lives– with subject matter experts who leverage their Cultural Intelligence (CQ) to blend meaning and feeling to cultivate real human connections. We combine human expertise with customized technology to help organizations effectively communicate to an increasingly diverse domestic population and navigate the global marketplace. Our clients include pharmaceutical and health insurance companies, hospitals and health agencies. More about CQ fluency can be found on our website at http://www.CQfluency.com
About Inc. Media
The world's most trusted business-media brand, Inc. offers entrepreneurs the knowledge, tools, connections, and community to build great companies. Its award-winning multiplatform content reaches more than 50 million people each month across a variety of channels including websites, newsletters, social media, podcasts, and print. Its Female Founders 100 list was launched in 2018 and recognizes the 100 women who are driving innovation in their industries across the United States. For more information, visit http://www.inc.com.
##