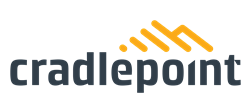 BOISE, Idaho (PRWEB) April 29, 2019
Cradlepoint, the global leader in cloud-delivered LTE and 5G Ready wireless network edge solutions, today confirmed that it is a platinum sponsor of Axon Accelerate 2019, one of the world's leading public safety technology conferences. Axon Accelerate 2019 takes place April 29 - May 1, 2019 at the Sheraton Grand in Downtown Phoenix.
Cradlepoint will exhibit its public safety wireless edge solutions that provide Gigabit-Class LTE connectivity for station and command center, vehicle and IoT use cases at booth 3. The company's chief marketing officer, Todd Krautkremer, will also host and moderate a panel discussion titled, The Next-Generation Cruiser, on Wednesday, May 1, at 2:15pm. Taking place during breakout session five, Cradlepoint customers Milwaukee Police Department and Nevada Highway Patrol will examine evolving law enforcement and safety technology for cruisers and its role as a mission-critical communications hub, as well as the requirements for LTE, public safety cores and 5G.
Directly preceding the panel discussion, Cradlepoint and Axon will provide a live demonstration of an Axon body-worn camera offloading captured video to their Evidence.com cloud through a Cradlepoint in-vehicle router configured for WiFi-as-WAN functionality.
Axon Accelerate attendees will have a chance during the event to learn more about Cradlepoint's FirstConnect™ program for first responder organizations. FirstConnect is specifically designed to help police, fire and emergency services customers overcome many of the budgetary, logistical and operational challenges typically faced when deploying new cellular router solutions.
"The modern police cruiser is no longer just a means of conveyance for patrolling towns, cities, and highways, it's now a vital hub that provides real-time communications in and around the vehicle and links devices, sensors and cameras to the command center and the cloud," said Todd Krautkremer, chief marketing officer at Cradlepoint. "As cruisers evolve, the speed, connectivity, reliability, and security of the in-vehicle network must also evolve—making them sophisticated as an enterprise network and making Cradlepoint's enterprise expertise a real advantage for public safety agencies."
Cradlepoint has over 3,000 public safety customers including 73% of the most populous U.S. cities and four of the five largest police departments. The company entered into a partnership with Axon in June 2016 to provide in-field connectivity solutions and recently awarded Axon with Mobile Partner of the Year honors at the 2019 Cradlepoint Connect partner summit in San Diego.
For more information on Cradlepoint's Gigabit-Class LTE edge routers, visit: https://cradlepoint.com/4g-lte-network-solutions-first-responders
For more information about the event, visit: https://www.acceleratepolicing.com/home
About Cradlepoint
Cradlepoint is the global leader in cloud-delivered wireless edge solutions for branch, mobile, and IoT networks. The Cradlepoint NetCloud service, based on the Elastic Edge™ vision, delivers agile, pervasive, and software-driven wireless WANs built on LTE and 5G services to connect people, places and things everywhere with resiliency, security, and control. More than 25,000 enterprise and government organizations around the world, including 75 percent of the world's top retailers, 50 percent of the Fortune 100, and first responder agencies in 10 of the largest U.S. cities, rely on Cradlepoint to keep critical branches, points of commerce, field forces, vehicles, and IoT devices always connected and protected. Major service providers use Cradlepoint wireless solutions as the foundation for innovative managed network services. Founded in 2006, Cradlepoint is a privately held company headquartered in Boise, Idaho, with a development center in Silicon Valley and international offices in the UK and Australia.
Learn more at cradlepoint.com or follow us on Twitter @cradlepoint.
Press Contacts:
Kylle O'Sullivan
Touchdown PR
cradlepointUS(at)touchdownpr(dot)com
512-373-8500