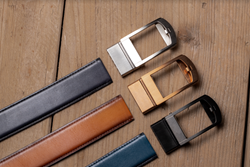 The Craftmark Belt was developed to inspire through innovation to simplify life.
SINGAPORE (PRWEB) January 14, 2019
With an array of interchangeable high-quality leather belt bodies and durable metal buckles made of stainless steel to choose from, Craftmark introduces a belt that suits any event effortlessly and never sacrifices style. Today, Barnns, the team behind Craftmark launched on Kickstarter with the hopes of raising $12,000 to bring their revolutionary belt to fruition.
Craftmark's smart-locking stainless steel buckle allows for a micro-adjustable custom fit for any individual, and it ensures ultimate comfort. Additionally, the Craftmark Belt's easy-twist magnetic system allows users to easily swap between premium hand stained vegetable-tanned leather and sophisticated Saffiano leather, to suit any occasion, with a swivel of the buckle.
Made from premium-quality, durable, natural leather, the Craftmark Belt is made with a "chromium-free" method that does not use harmful chemicals. The artisanal process takes advantage of the tannic acids naturally found in some plant species by using the barks, branches, leaves, and even some fruits.
"Craftmark was inspired by my husband's need for a stylish and versatile belt that could provide micro-adjustments for maximum comfort," explained Founder Adelene Tan. "His job as a tech executive requires him to look dapper and professional, but he also favors a smart-casual look for socializing after work. The Craftmark Belt was developed to solve these issues and to inspire through innovation to simplify life."
With the Craftmark Belt, consumers have the ability to create their own belts to match their individual, unique style using an array of interchangeable leather belt bodies and quality stainless steel buckles from the collection. Starting at $72, the Craftmark Belt gives consumers much more than just two belts in one. To learn more or to see the full Craftmark collection, visit http://pr.go2.fund/barnns.
About Barnns
At Barnns, our vision is simple: to inspire through the beauty of leather. We are passionate about leather and its myriad possibilities for creativity. We seek to bring innovation to this beautiful ancient material and to make it relevant to modern living. The luxurious richness of the look, feel and the smell of leather, coupled with its grounding quality, engages the senses and fires up the imagination. It is from this vantage point that we dream up stylish leather accessories for the modern lifestyle. Where beauty, quality and function are expressed in the perfect union. To learn more, visit https://producthype.co/craftmark/