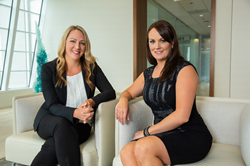 WAUKEGAN, Ill. (PRWEB) September 13, 2020
Salvi, Schostok & Pritchard is pleased to announce Partners Tara R. Devine and Jennifer L. Ashley have been named to the 2020 Notable Women in Law list by Crain's Chicago Business.
The 2020 Notable Women in Law list recognizes women who have a track record of setting legal precedents, winning big cases for their clients and mentoring the next wave of women in law – all while finding ways to give back to their communities. Ms. Devine and Ms. Ashley were among 124 honorees chosen from more than 200 nominations.
"These lawyers represent almost every major firm and type of practice… Almost all have been shaken by the pandemic but have skillfully adapted, whether by delivering an oral argument remotely or by arranging socially distanced document signings… They are expanding the role of the women's resource group to make sure that young associates get the skills and confidence they need to succeed. And they reach beyond their firms to support young girls, law school students, asylum seekers and disabled people," Crain's wrote in the official announcement.
For more information, please contact Marcie Mangan at (877) 975-7991 or mmangan@salvilaw.com.