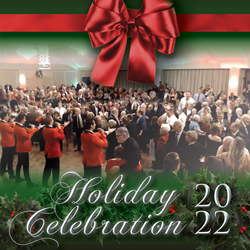 On behalf of our employees, educators, clients, and everyone here tonight, I'd like to present Phil this award: Proudly honoring Phillip J. Cannella III, the original Crash Proof Gladiator
KING OF PRUSSIA, Pa. (PRWEB) December 15, 2022
Crash Proof Retirement® Founder Phil Cannella and CEO Joann Small hosted their 14th Annual Client and Staff Appreciation Night at the prestigious Springfield Country Club, in Springfield, PA, on December 3, 2022. The elegant black-tie event was accompanied by the soothing melody of a symphonic 10-piece orchestra, a sentimental playlist from classic crooners as performed by Phil's nephew Pete Cannella, the authentic sounds of Philadelphia from the ten-member cover band Philly Heart and Soul, with a special guest musical performance from the Jersey Boys.
Complimenting the musical performances, Crash Proof Retirement® Vice President Traci Stillman, joined by Senior Financial Analyst Ross Phillips, introduced Crash Proof Retirement® Founder Phil Cannella, who joined the celebration virtually due to health challenges, along with CEO Joann Small from their luxurious home in Boca Raton, Florida. After a brief opening speech, Ross Phillips highlighted an impressive slate of statistics for the audience.
"Conservatively, Crash Proof Clients have protected over $1.5 billion of their assets over the years," said Senior Financial Analyst Ross Phillips, as the crowd erupted with applause. "Think about it this way, with the S&P 500 losing 15% year-to-date, that means you all didn't lose $250 million dollars. Our clients have been able to relax having the peace of mind knowing their assets are protected from market losses and fees." During a tumultuous year, filled with unbridled market volatility, Wall Street investors have lost more than the stock market, losing up to 25%, while Crash Proof Consumers have not lost a single penny. In fact, many Crash Proof Consumers, including those who were in attendance, credited interest to their accounts in 2022. This puts Crash Proof Consumers well ahead of Wall Street, for years to come, as the stock market crash has no clear end in sight.
In recognition of developing the Crash Proof Retirement® System, serving as a consumer advocate for the American people, and standing up to the corruption and greed of Wall Street, executives Vice President Traci Stillman and Senior Financial Analyst Ross Phillips presented Phil Cannella with an award to honor and recognize his illustrious and influential career. "On behalf of our employees, educators, clients, and everyone here tonight, I'd like to present Phil this award: Proudly honoring Phillip J. Cannella III, the original Crash Proof Gladiator," read Ross Phillips.
Phil Cannella, appearing on screen with Joann Small, smiled and thanked the audience as they broadcasted into the ballroom at Springfield Country Club. "I am so proud of every one of our staff members for standing up and doing what they believe in; our staff are truly consumer gladiators," said Phil Cannella. "I want to wish you all a very special and happy holiday this year — Merry Christmas!"
Crash Proof Retirement® CEO Joann Small continued, thanking the team and Vice President Traci Stillman for her incredible leadership throughout 2022. "We are so proud of everyone at Crash Proof Retirement® and Retirement Media; you all shine and you all came through for us, and we really appreciate every one of you," said Joann Small. "Traci, leading the helm was a difficult task and you stood up and you stood tall — Phil and I are very proud of you."
Founder Phil Cannella, CEO Joann Small, and Vice President Traci Stillman also acknowledged Crash Proof Retirement® Financial Analyst James Bucci for his outstanding achievement throughout the year, awarding him with a minted United States 1-ounce golden coin. Every year this exquisite coin, etched with a sculpture of a soaring American Eagle and Lady Liberty, is awarded to an exceptional employee who demonstrates freedom, independence, liberty, and strength — qualities that are uniquely attributed to this patriotic coin. Financial Analyst James Bucci earned this 1-ounce golden coin because of his ability to soar like the American Eagle above and beyond all limitations, while exhibiting strength, and serving as Lady Liberty's guiding beacon of hope for Crash Proof Consumers during times of economic uncertainty.
Following the awards ceremony, guests enjoyed world-class entertainment, an impeccable dining experience, and a night full of dancing. Crash Proof Consumers Gary and Francine Sanford, who were spotted frequently on the dance floor, wrote to Crash Proof Retirement® to express their happiness with the event. "The hall was beautiful, the diner [sic] was amazing and the entertainment was fabulous, especially the surprise guest [the Jersey Boys]," wrote Gary and Francine. "We literally danced all night long. We as well as everyone else really needed a great night of fun and entertainment like that."
Crash Proof Consumers Steve and Kathy DiGiorgio also gave thanks to Crash Proof Retirement®, writing to Phil and Joann to describe how much they enjoyed the holiday festivities. "Everything was absolutely wonderful, and I can't express how excited we were when the Jersey Boys came out," wrote Steve DiGiorgio. "That was one of our favorite plays, and we love the music."
About Us:
Crash Proof Retirement, LLC is a one-of-a-kind consumer advocacy retirement planning financial firm, with offices located in King of Prussia, Pennsylvania and Palm Beach, Florida, that is dedicated to protecting investors' nest eggs. Run by Founder Phil Cannella and CEO Joann Small, these executives lead from the front with their very own specifically tailored Crash Proof Retirement® System. While Cannella and Small have traveled different paths throughout their careers, they eventually joined forces with a common goal to educate the public about the dangers of Wall Street's high-risk securities, economic disasters, bankruptcies, government takeovers, and much more. Cannella and Small have protected more than 5,000 consumers using the Crash Proof Retirement® System and have made it their mission to create a consumer advocacy firm that investors can rely on and have peace of mind throughout retirement. For more information, visit http://www.crashproofretirement.com or tune into The Crash Proof Retirement Show® which airs in the Philadelphia region on Saturdays at 11am and Sundays at 1pm on Talk Radio 1210 WPHT.