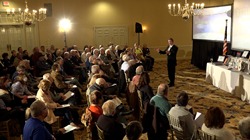 KING OF PRUSSIA, Pa. (PRWEB) November 29, 2021
Eager consumers from the Northeast region of Philadelphia filled an elegant ballroom at the Spring Mill Manor for an exclusive education about the Crash Proof Retirement® System. Renowned retirement experts, Phil Cannella and Joann Small enlightened guests with an in-depth analysis of the benefits and features of the Crash Proof Retirement® System. Crash Proof Retirement® Founder Phil Cannella educated audience members about the importance of protecting their assets from the dangers of market risk and fees, as well as the current challenges that are slowing economic growth and jeopardizing consumer's retirement security.
Cannella's words of wisdom were met with resounding applause and admiration from the audience as the esteemed retirement phase expert spoke about current economic dangers and how they are threatening the retirement security of seniors throughout the country and their families. "I'm worried about your grandchildren, I'm worried about your kids, and I'm worried about you," Cannella said sympathetically. "But I'm not worried about my kids, or my grandkids because I'm Crash Proof®." Members of the audience were drawn in by Cannella's passion as he described the impact that Wall Street fluctuations have on investors' nest eggs and recounted testimonials of clients who were grateful for their financial protections during the pandemic.
Throughout the presentation, Cannella provided a transparent view of the vehicles that make up the Crash Proof Retirement® System and fielded critically important questions from guests who shared concerns about their retirement future. One question that was on the mind of many attendees that evening was raised by a woman in the audience who inquired about how Crash Proof Retirement, LLC makes money. "We get paid a one-time compensation from the life insurance institutions that we deal with, and the one-time compensation does not come from your accounts because they are interest bearing accounts that grow without any fees," Cannella explained. "One-hundred percent of the money you invest grows one-hundred percent of the time."
Dave Snyder of Somerton, Pennsylvania was concerned about the state of the country and wanted to learn more about how Crash Proof Retirement® could balance the chaos. "I'm just concerned about what the government is going to be doing with the situation that we have with inflation and how they propose to fix it or correct it." Snyder, who worked as a nurse during his professional career, was familiar with the life insurance industry and wanted to know what advice Crash Proof Retirement® could lend to him about how to protect his retirement. Snyder expressed, "I think that the only way to be prepared for the future is to gather information from as many different sources as possible."
While this event was the first for the majority of those in attendance, this was the sixth event for Crash Proof Consumer Tom Bartie. After joining Crash Proof Retirement® in 2013, Bartie was thrilled with the level of education he received for his retirement and continues to attend events to update his knowledge. "We used to come at least once a year to find out what's new and what's happening," Bartie exclaimed. "There's always something new, in fact I made arrangements to go to the office to have a meeting with someone." Bartie is a strong believer in the Crash Proof Retirement® System and has encouraged other consumers, such as his friend Jim from Yardley, Pennsylvania to receive a financial education.
"I got quite a bit of knowledge and now I'm going to have to sort through everything and see where I go from that," Jim declared. "I have been doing very well because the market's been doing very well and at this particular point in time, I don't like what the government's doing. I'm a little afraid that the market is going to go into the downturn—as Phil called it—and [I'd] like to get into something that is Crash Proof." Jim was also impressed with Cannella's explanation of lost growth on the market from 2000 to 2015. "He was right on target with that, no question," Jim asserted. "I'm proof of that."
Phil Cannella, Joann Small, and the entire Crash Proof Retirement® Team will be hosting their next in-person educational event on December 7, 2021, at the Falls at the DoubleTree, in Mt. Laurel Township, New Jersey. Call 1-800-722-9728 or visit http://crashproofretirement.com to reserve your seat and find out more information about the exclusive Crash Proof Retirement® System.
About Us:
Crash Proof Retirement, LLC is a one-of-a-kind consumer advocacy retirement planning financial firm, with offices located in King of Prussia, Pennsylvania and West Palm Beach, Florida that's dedicated to protecting investors' nest eggs. Run by Founder Phil Cannella and CEO Joann Small, these executives lead from the front with their very own specifically tailored Crash Proof Retirement® System. While Cannella and Small have traveled different paths throughout their careers, they eventually joined forces with a common goal to educate the public about the dangers of Wall Street's high-risk securities, economic disasters, bankruptcies, government takeovers, and much more. Cannella and Small have protected more than 5,000 consumers using the Crash Proof Retirement® System and have made it their mission to create a consumer advocacy firm that investors can rely on and have peace of mind throughout retirement. For more information, visit http://www.crashproofretirement.com or tune into The Crash Proof Retirement Show® which airs in the Philadelphia region on Saturdays at 11am and Sundays at 1pm on Talk Radio 1210 WPHT, in the Palm Beaches on Sundays at 8am on Legends 100.3 FM, and now in the Tampa Bay region on Saturdays at 11am on NewsRadio 970-AM, WFLA.