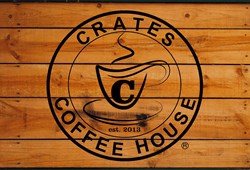 "We're thrilled to welcome Andrea and Crates Coffee House into the Crimson Cup community. It's our passion to foster the success of independent coffee shops and their owners. - Greg Ubert
Columbus, Ohio (PRWEB) January 31, 2014
A new locally owned coffee shop, fueled by coffee roaster and franchise alternative Crimson Cup Coffee & Tea, is warming up the Lake Orion, Mich. community. Owner Andrea Rank opened her Crates Coffee House, 1472 S. Lapeer Road, on Jan. 18. Grand opening celebrations take place March 11.
Rank started Crate's after completing Crimson Cup's Seven Steps to Success franchise alternative program. "Working with Crimson Cup step by step made it easy for us," she said. "It's hard work being an owner, but we love it!"
Crimson Cup teaches prospective owners everything they need to run a successful coffee house, from developing a business plan to choosing a location to hiring and managing staff. Comprehensive, hands-on training gets the coffee house off to a great start. The program is based on the book, Seven Steps to Success in the Specialty Coffee Industry, by company Founder and President Greg Ubert.
"We're thrilled to welcome Andrea and Crates Coffee House into the Crimson Cup community," Ubert said. "It's our passion to foster the success of independent coffee shops and their owners."
Unlike coffee franchises, Crimson Cup allows entrepreneurs to create a unique specialty coffee business. From the name on the door to the location, menu, interior decor and other features, the owners put their stamp on a business that reflects their individual tastes and the needs of their local community.
Crates takes its name from a family heirloom – an old coffee crate that had been passed down through the generations. And bringing the coffee house into reality became a family affair. Rank teamed with husband Brian, who acted as the general contractor, to transform an empty storefront into a beautiful and spacious gathering place for the people of Lake Orion. Comfortable tables and chairs invite guests to linger over drinks in the cheery interior. Complimentary Wi-Fi connects visitors to work and school.
Customers choose from a full menu of hot and cold specialty coffee drinks, including handcrafted espressos, lattes, cappuccinos and mochas. They can also watch baristas prepare pour-over coffees by hand at the brew bar. Frozen smoothies, hot chocolate and premium hot and iced teas round out the drink menu, accompanied by breads and sweet treats sourced from Lake Orion's Great Harvest Bread.
About Crimson Cup Coffee & Tea
Since 1991, Crimson Cup Coffee & Tea has hand-roasted specialty coffee in Columbus, Ohio and taught independent business owners how to be successful through its coffee shop franchise alternative program. Sustainably sourced Crimson Cup coffee is available through a network of more than 350 independent coffee houses, grocers, college and universities, restaurants and food service operations across 28 states, as well as the company's own Crimson Cup Coffee House in the Columbus suburb of Clintonville. For more information, visit crimsoncup.com.