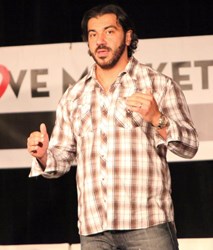 If you want to be a success, you have to act like a successful person. You need to create a bulletproof mindset of being absolutely unstoppable
Chino Hills, CA (PRWEB) August 19, 2013
The popular personal trainer fitness marketing website PTPower.com has just published a new guest article by Canadian fitness expert Sean Francis on how to create a successful fitness business.
Francis, who won the 2012 Fitness Business Summit for Greatest Business Transformation of the Year award and spoke at the 2013 Fitness Business Summit, goes into depth on subjects like how to take action, why personal trainers should hire a business coach, and how to be manage time to be more productive. He says, "If you want to be a success, you have to act like a successful person. You need to create a bulletproof mindset of being absolutely unstoppable. That nothing (including yourself) will stop you from being successful. Long before outside factors have a chance to influence your success for better or worse, you must first convince yourself that you deserve the success you are after."
Bedros Keuilian, founder of PTPower.com says of the new article, "what's great about this guest post is that Francis gives personal insight on what he did to grow his own fitness business so that personal trainers, no matter their experience or business skills, can take this information and put it to good, immediate use."
Corporal Francis' Guide to a Successful Fitness Business can be found at PTPower.com, along with other business building and fitness marketing tips to help people from all over the world grow a successful personal training business.
About PTPower.com
PTPower.com is the popular online fitness marketing blog used by thousands of personal trainers worldwide created and maintained by Bedros Keuilian. Keuilian is the founder of PTPower.com and the fitness boot camp franchise, Fit Body Boot Camp. PTPower.com is dedicated to teaching fitness professionals and personal trainers how grow their fitness business and reach financial freedom. To find out more about PTPower.com, or the boot camp franchise, Fit Body Boot Camp, please visit http://ptpower.com/ , or http://www.myfitbodybootcamp.com/ .