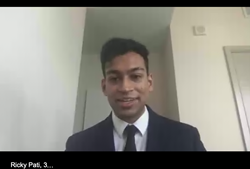 PHILADELPHIA (PRWEB) May 03, 2021
Venture Lab is pleased to announce the winner of the fifth annual Startup Challenge, sponsored by Eric Aroesty, C'92: 3Cor Bio, founded by Ranjan Pati (C'21, W'21). 3Cor Bio produces low cost, accessible diagnostics for infectious diseases, including a COVID-19 diagnostics device. Due to the COVID-19 pandemic, Venture Lab held the competition in a virtual setting on April 23rd and April 30th.
The COVID-19 pandemic revealed fundamental flaws in health care's diagnostics and testing infrastructure. Pati founded 3Cor Bio to democratize diagnostics and to make testing more equitable. With a small saliva sample and a smart phone, 3Cor Bio's diagnostic platform provides a COVID diagnosis within four minutes with 97% accuracy costing $4.67 per test. While 3Cor Bio expects to receive emergency approval from the FDA in the coming months, Pati also plans to expand the testing platform to diagnose all infectious diseases including influenza, malaria and sexually transmitted diseases.
3Cor Bio was selected from the field of Eight Finalist teams—including RinSalt and Nouri—who advanced from the nearly 30 Semifinalists during Day 1 of the competition. Day 1 consisted of several hours of Semifinalist virtual pitching and Q&A in front of alumni entrepreneur and investor panels. On Day 2, Finalists pitched a panel of judges, then to a live audience. Hundreds of viewers from across the globe tuned in to watch teams compete for over $135,000 in cash and prizes to launch their startups.
The Startup Challenge marks the end to another exciting year of entrepreneurship across the Penn community. Students engaged in entrepreneurial programming are founding, developing, and scaling companies utilizing the multitude of resources available within the Penn and Philadelphia ecosystems. Venture Lab is proud to continue to be a leader in entrepreneurship education, with plans to open Tangen Hall, the university's first dedicated space for cross-campus entrepreneurship and innovation, in the coming year.
The 2021 Startup Challenge winners are:

Perlman Grand Prize: $30,000 + $15,000 in legal, accounting and strategy services to 3Cor Bio.
Runner-up: $15,000 + $15,000 in legal, accounting, and strategy services to CoverForce.
Innovation Award: $10,000 + $15,000 in legal, accounting, and strategy services to Félix.
Launch Prize: $10,000 + $15,000 in legal, accounting, and strategy services to Lumify Care.
Frederick H. Gloeckner Award for Best Undergraduate Team: $10,000 3Cor Bio.
Robert S. Blank New Venture Collaboration Award: $10,000 to Altrui Rx.
Jacobson Social Impact Prize: $10,000 to Critical Health Information Integration Network (CHIIN).
AI for Business Award: $10,000 to Félix.
Weiss Tech House Audience Choice Award: $5,000 to RinSalt.
Previous winners of the Startup Challenge and Showcase include Hello Ralphie, which connects pet parents with veterinarians for video and chat appointments, and Percepta, which creates ethical AI for unbiased shoplifting detection.
Startup Challenge Finals judges were:
Richard Perlman W'68, Executive Chairman, ExamWorks Group, Inc.
Dorie Smith WG'13, Interim CEO, Venture For America, Founder and Chairwoman, Of Mercer
Andy Salamon WG'16, General Partner, Material
Kathryn Stewart WG'88, Founder & CIO at Cranbrook Capital
Startup Challenge & Showcase Sponsors:
Note on abbreviations:
C-Penn College of Arts & Sciences student/alum (bachelor's)
W-Wharton undergraduate student/alum
WG-Wharton MBA student/alum
About Venture Lab
Venture Lab is a resource for any Penn student who is interested in entrepreneurship and innovation. We maximize the ability of our students and alumni to address important challenges through entrepreneurship and entrepreneurial thinking. Ignited by great ideas, our faculty, students, and alumni turn innovative concepts into scalable and sustainable businesses and bring entrepreneurial development to existing companies eager for change. In a world hungry for productive innovation, our disciplined approach challenges concepts, focuses ideas, and provides the know-how to turn fledgling businesses into strong, enduring organizations.
About the Wharton School
Founded in 1881 as the world's first collegiate business school, the Wharton School of the University of Pennsylvania is shaping the future of business by incubating ideas, driving insights, and creating leaders who change the world. With a faculty of more than 235 renowned professors, Wharton has 5,000 undergraduate, MBA, executive MBA and doctoral students. Each year 13,000 professionals from around the world advance their careers through Wharton Executive Education's individual, company-customized, and online programs. More than 99,000 Wharton alumni form a powerful global network of leaders who transform business every day. For more information, visit http://www.wharton.upenn.edu.