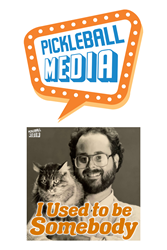 "I Used to Be Somebody isn't your typical 'Life After Retirement' advice... our podcast is all about building a meaningful second act."
SACRAMENTO, Calif. (PRWEB) October 27, 2020
I Used to Be Somebody, a new weekly podcast for the "un-retired", launched in mid-September. Host Carl Landau interviews entrepreneurs, executives, and creatives about how they built a successful (un)retirement. Episodes 1-4 include insights from:
Joe Pulizzi, founder of the Content Marketing Institute, gives strategies to figure out what comes after selling your successful company.
Moira McGarvey Black, former corporate recruiter turned best-selling mystery novelist, talks about changing careers without fear.
Bob Tuschman, former Food Network exec shares the process he created to develop his successful "Second Act" teaching at NYU
Richard Turner, accomplished nature photographer (and formerly high-powered trial attorney) on listening to your inner voice
Produced by Pickleball Media, I Used to Be Somebody is for Boomers charting their "second act" rather than a traditional retirement. "This podcast isn't your typical "Life After Retirement" advice," says host Carl Landau. "Instead, we feature stories from first-time entrepreneurs launching their first company in their 60s and former executives reconnecting with their passion after a high-powered career. And it's FUN (after all, this is the first podcast ever produced from a Tiki Bar!)"
Retirement in 2020 looks totally different than it did for previous generations:

The Boomer market is exploding—70 million retirees in the U.S. and 10,000 new retirees daily (that's 300,000 a month!) It's a $27 trillion dollar business.
Today, 51% of aspiring entrepreneurs are Baby Boomers.
Growing online entrepreneurship--nearly 1 in 5 people who remain working past age 65 are self-employed.
Why the Pickleball name? When not podcasting, Landau loves playing pickleball, the fastest growing sport in the U.S.A. Introductory video: https://bit.ly/3gV8ogp
Carl Landau is Pickleball Media's Creative Genius and host of I Used to be Somebody. He started his first magazine at age 26 and launched 4 successful media companies. (Carl also had 15 minutes of fame in the 1980s with his "Buy An Ad, Get a Cat" ad.)
CONTACT:
Carl Landau
carl@pickleballmediahq.com
(916) 443-3000
http://www.pickleballmediahq.com
https://www.linkedin.com/in/carllandau/