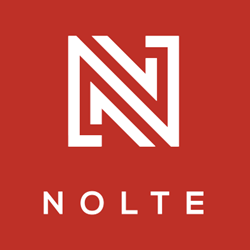 At Nolte, making technology meaningful, together has always been our purpose and we are now capturing that in an explicit way.
NEW YORK, NY (PRWEB) September 20, 2016
A decade ago, Jeffrey Nolte founded Moxie, a design and development agency. During the past two years, Moxie has drastically changed as an organization. A new vision for the company has emerged, equating to a global rebrand and an all around evolved approach. On September 15th 2016, Moxie has officially been retired, and Nolte has been named as the agency's new brand and vision.
Nolte's core vision states, "Nolte creates meaningful digital products and experiences for the world's leading businesses, brands, and innovators."
Nolte's CEO, Jeffrey Nolte, believes, "The only way to really stand behind your work is to publicly put your name on it--and own it!" Nolte continues, "We're passionate about the work we do, and I'm proud of what this company has become, which is what made me finally decide on Nolte as our new name."
Making Technology Meaningful, Together.
From today, "Making Technology Meaningful, Together," will serve as both Nolte's purpose and its tagline, becoming central to its brand. Nolte's CEO and Founder says, "At Nolte, making technology meaningful, together, has always been our purpose, and we are now capturing that in an explicit way. We know that 'making technology meaningful, together,' is an ambitious objective, but it is an incredibly important aspiration and will be front and center of everything we do as an organization."
New Team & New Location
Nolte has taken this as an opportunity to expand digital product development productivity and outreach by moving office locations. On September 1st, Nolte moved to the border of ChinaTown and Little Italy--a ten minute walk from Nolte's previous location on Broadway and Houston.
Additionally, Nolte now has roughly twenty team members and is consistently growing. The makeup is spread across nine countries and fourteen cities. Nolte is no longer limited to local resources and now empowered to hire the most qualified talent, regardless of location. Currently, one third of the Nolte team is working out of the New York office.
ABOUT NOLTE
We create and maintain digital products--everything from apps, to services, to business tools. We ensure the entire process, from ideation to strategy, then design and development, feels cohesive and collaborative.
Nolte exists because of our team members, who transformed their passions into careers. We believe meaningful technology is born when passionate teams create in tandem with committed clientele. Our clients' visions empower us to use our skills and build the future--together. Their wins are our wins.