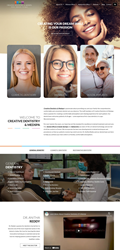 By introducing the new iTero digital scanner into our practice, we can now provide Invisalign patients with the most advanced technology and optimal cosmetic outcome, says Dr. Anitha Reddy
ATLANTA (PRWEB) July 12, 2021
Creative Dentistry & MedSpa's experienced dental team provides a wide selection of dental services from general and preventive dental care to cosmetic and restorative dentistry. The practice also offers Invisalign® for those who wish to discreetly undergo cosmetic orthodontic teeth straightening treatment.
The new iTero® digital scanner, intraoral scans allow patients of Creative Dentistry & MedSpa to receive a truly individualized Invisalign® treatment plan. An individualized Invisalign® treatment plan will allow for a better cosmetic outcome and straighter teeth in a shorter amount of time. In addition to superior Invisalign® results, the intraoral scanner also allows a distinct and customized fit with mouthguards, whitening trays and oral appliances used to treat sleep apnea.
Creative Dentistry & Med Spa is offering a "Summer Special" with $1,000 off Invisalign treatments for the week of July 19th, 2021, only. When patients take advantage of this special, they will experience the iTero scanner alongside Invisalign treatment. Their aligners will fit more accurately against their teeth than with previous methods, thus producing the smile that they desire. The iTero scanner captures images of a patient's mouth to create three-dimensional dental images in just minutes. This portable device includes a hand-held mechanism that the patient gently and comfortably holds in his/her mouth. The image from the iTero® scanner is uploaded into the software, and patients can get a true visual picture of what their smile will look like when they complete orthodontic treatment.
"By introducing the new iTero digital scanner into our practice, we can now provide Invisalign patients with the most advanced technology and optimal cosmetic outcome," says Dr. Anitha Reddy
More About Creative Dentistry & Med Spa:
Patients have trusted Dr. Anitha Reddy and her dental team for the past 25 years when they have needed the very best in comprehensive dentistry. With dental offices in Sandy Springs, Alpharetta and Covington, the state-of-the-art practice uses cutting-edge technology to ensure excellence in comfort and dental care for the entire family. For more information or to schedule an appointment at Creative Dentistry & Med Spa contact the Atlanta/Sandy Springs location (5505 Peachtree Dunwoody Rd, Building #460) at 404-883-3287, Alpharetta location (5755 North Point Pkwy, Ste 102) at 770-676-2476 or Covington location (4139 Baker St NE, Building #15) at 770-787-1013 or visit http://www.creativedentistryofatlanta.com.