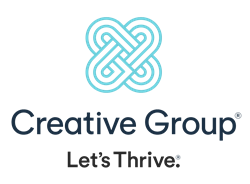 It's apparent that Donna's passion is for delivering solutions to her clients that enable their employees and channel partners to reach their full potential
SCHAUMBURG, Ill. (PRWEB) April 16, 2019
Creative Group, Inc., a full-service meeting, incentive and recognition company, announced today the hiring of Donna Dorsey-Travisano as Account Executive, Business Development, effective immediately. This is a new position, created to support the continued growth of the company.
Dorsey-Travisano joins the business development team, focusing on expanding the company's presence on the East Coast. She has a passion for maximizing sales and profits by optimizing the performance of her clients' sales and channel partners through award-winning meetings, events, and incentive programs that deliver results.
"It's apparent that Donna's passion is for delivering solutions to her clients that enable their employees and channel partners to reach their full potential," says Scott Tarnoff, Vice President, Business Development, Creative Group. "Having spent years in the incentive industry, and having run her own company, gives her the experience clients need."
"Creative Group embodies my desire for client service," says Donna Dorsey-Travisano. "I'm excited to begin working with Creative Group and delivering business-changing experiences to help drive my client's success, while helping its employees and channel partners thrive!"
About Donna Dorsey-Travisano
Dorsey-Travisano comes to Creative Group with over twenty-five years of industry experience prior to starting her own meeting and incentive travel company, HMS Global Solutions in 2014.
About Creative Group
Creative Group is a full-service meeting, incentive and recognition company that delivers business results by inspiring people to thrive. An industry leader, Creative Group has been honored with the CMI 25 Award, which recognizes the top 25 most influential meeting and incentive management companies in the U.S. and has received the award every year since its inception in 2007.
Creative Group was founded in 1970 and has served clients in financial services, life sciences, insurance, manufacturing, retail, technology, automotive and hospitality. Employing over 220 people, the company is headquartered in Schaumburg, Illinois and maintains offices in Detroit, Denver, San Francisco and Appleton, Wisconsin. Creative Group was acquired by Direct Travel in 2015. For more information about Creative Group, please visit http://www.creativegroupinc.com