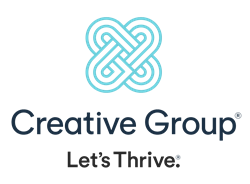 "I am thrilled to welcome Jim to the business development team. He has a strong entrepreneurial spirit that a true desire to help his clients design business-changing experiences that help them thrive", says Scott Tarnoff, Vice President, Business Development.
SCHAUMBURG, Ill. (PRWEB) February 27, 2023
Cavanagh's breadth of experience in the meetings and incentives industry along with his expertise in helping clients meet specific business goals makes him a natural fit with Creative Group's consultative culture. His personal brand is all about honesty and his natural sense of authenticity helps him easily connect with clients and build strong relationships.
"I am honored to join Creative Group and excited to have a collection of integrated solutions to meet my client's ever-changing business challenges," says Cavanagh.
Creative Group specializes in experience design and event management, as well as incentive solutions, designed to align the behaviors of employees, sales forces, and customers with desired results.
About Jim Cavanagh
Cavanagh received his Bachelor's in Science from Northern Illinois University with a concentration in business, management, and marketing. He has also held previous business development roles within the technology, manufacturing and private equity industries. Cavanagh established his early career working for a number of agencies in the meetings and incentives industry. He began in sales, where he received multiple promotions and was recognized as a ten-time winner in previous sales incentive programs.
Cavanagh is a diehard Chicago Cubs fan and avid golfer. He's the oldest of seven children and lives with his wife and three kids in Naperville, Il.
About Creative Group
Creative Group, a Direct Travel company, is a full-service performance improvement company that delivers results by inspiring people to thrive. The company specializes in engagement, incentive and recognition solutions, and end-to-end meeting and event management. An industry leader, Creative Group has been honored with multiple SITE Crystal Awards and the CMI 25 Award, which recognizes the top 25 most influential meeting and incentive management companies in the U.S.
Creative Group was founded in 1970 and serves clients in technology, financial services, life sciences, insurance, manufacturing, retail, automotive, hospitality, and more. Employing over 170 people, the company is headquartered in Schaumburg, Illinois, and maintains offices in San Francisco (Emeryville), Detroit, Appleton, Wisconsin, and Toronto, Canada. Creative Group was acquired by Direct Travel in 2015. For more information about Creative Group, visit http://www.creativegroupinc.com