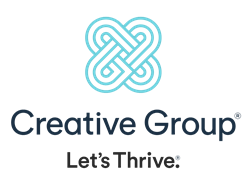 Incentive travel programs inspire people to thrive and reach their full potential. I look forward to furthering the understanding of the impact that incentive travel can make, and to advocating its use on an international basis
SCHAUMBERG, Ill. (PRWEB) October 31, 2018
Creative Group, Inc., a full-service meeting, incentive and recognition company, announces that Rebecca Wright, CIS, Director, Account Operations, has been named to the international board of directors for SITE. Rebecca's knowledge of the incentive business makes her a perfect addition to the board. In this role, she will work to strengthen SITE's voice and reputation amongst members, the travel industry and the business community.
"I'm honored to be serving on the SITE board. Incentive travel programs inspire people to thrive and reach their full potential. I look forward to furthering the understanding of the impact that incentive travel can make, and to advocating its use on an international basis," said Wright.
"Receiving this board appointment speaks to Rebecca's breadth of incentive travel experience across a variety of industries and the dedication and creativity that she brings to the industry as a whole," said Creative Group's Vice President, Customer Experience, Jerry Murphy. "I look forward to watching her help SITE grow its global impact."
About Creative Group
Creative Group is a full-service meeting, incentive and recognition company that delivers business results by inspiring people to thrive. An industry leader, Creative Group has been honored with the CMI 25 Award, which recognizes the top 25 most influential meeting and incentive management companies in the U.S. and has received the award every year since its inception in 2007.
Creative Group was founded in 1970 and has served clients in financial services, life sciences, insurance, manufacturing, retail, technology, automotive and hospitality. Employing over 220 people, the company is headquartered in Schaumburg, Illinois and maintains offices in Detroit, Denver, San Francisco and Appleton, Wisconsin. Creative Group was acquired by Direct Travel in 2015. For more information about Creative Group, please visit http://www.creativegroupinc.com.
About SITE
SITE, the Society for Incentive Travel Excellence is the only global organization dedicated to strengthening and supporting the incentive travel industry. SITE members help companies maximize workforce output by creating and delivering incentive travel programs that inspire people to exceed expectations and transcend their goals. For more information about SITE, please visit http://www.SITEglobal.com.