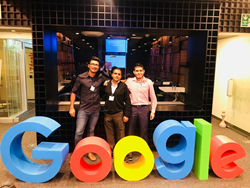 CANCUN, Mexico (PRWEB) September 19, 2018
Members of Experiencias Xcaret's E-Commerce department – Javier Alcocer, Sergio Aguilar and Héctor Cabrera – won first place at the AMP Hackathon in Mexico City.
Google organizes the AMP Hackathon to promote the improvement of user interaction through fast and attractive experiences on mobile devices. The Google Global Initiative seeks to improve the speed of mobile sites in just one day.
Joan Baca, the person responsible for Google's Mobile Ecosystem, organized the meeting. It consisted of the teams working on the development of pages with AMP technology and the support of Google engineers.
The teams presented their respective projects and improvements at the end of the event, and the best-valued project won the day.
First place went to Experiencias Xcaret, second to the representative team of Aeromexico and third to UNITEC. Other participating teams included Bancomer, Sanborns, Claro, Telcel, Elektra, Coppel, Liverpool, Scotiabank, UVM, IZZI and Total Play.
In the search to improve user interaction, Experiencias Xcaret's E-Commerce team began developing spaces in AMP more than a year ago. The preference for mobile devices comprises 89 percent of Internet users in Mexico, a much higher percentage than PCs, laptops and other devices.