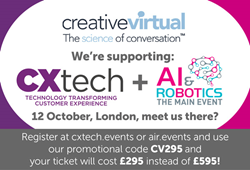 To be successful, digital customer experience strategies must go beyond what your customers experience online to include what's happening in your contact centre.
LONDON (PRWEB) October 09, 2018
Creative Virtual, a world leader in customer and employee engagement, knowledge management and self-service solutions, is a partner for CXtech, a new one-day customer experience event being held in London. The conference is co-located with AI & Robotics: The Main Event and is highlighting thought leadership and innovation in customer experience technologies.
Creative Virtual's Founder & CEO, Chris Ezekiel, is an expert speaker at the event. He will present a session titled Digital CX & the contact centre: AI, chatbots, live chat & knowledge management as part of the Digital Automation, Chatbots and Virtual Assistants Stream. His presentation will cover the essential components of AI-driven digital transformation in the contact centre and will include live demonstrations of current chatbot and live chat implementations.
"I'm fortunate to run a company that is at the forefront of helping organisations deliver superior customer experiences in the modern world," says Chris. "To be successful, digital customer experience strategies must go beyond what your customers experience online to include what's happening in your contact centre. I'm looking forward to sharing insights into developing and implementing initiatives around AI, automation and the contact centre to improve customer service and support."
As an event sponsor, Creative Virtual will also take part in the CXtech Solutions Showcase, providing demonstrations of their award-winning virtual agent, chatbot, live chat and knowledge management solutions. The technology utilises a unique combination of human input and machine learning, allowing the solutions to continually improve based on user interactions while also giving organisations control over the reliability of responses. Creative Virtual's suite of solutions are currently used by companies around the world to improve their customer and employee experiences.
More information about the conference agenda and how to register for the event can be found on the CXtech website. Registrants using Creative Virtual's promotional code CV295 will receive a £300 discount off the price of a single ticket.
To learn more about how Creative Virtual's technology brings together humans and artificial intelligence to enable anywhere, anytime customer and employee engagement, visit the Creative Virtual website.
ABOUT CREATIVE VIRTUAL
Creative Virtual, winner of the Queen's Awards for Enterprise: Innovation 2017, is a world leader in self-service solutions that enable anywhere, anytime customer engagement between brands and their customers. Leading global organisations including Lloyds Banking Group, BT, HSBC, Chase and InterContinental Hotels Group rely on our award-winning V-Person™ technology to improve their customer support experience, increase sales, reduce costs and build brand loyalty.
Backed by an experienced, expert team as well as an extensive partner network, our innovative virtual agent, live chat, knowledge management and business intelligence platform empowers organisations to provide customers with consistent, accurate, personalised and seamless omnichannel engagement across web, mobile, social, SMS, contact centre, service desk, live chat and IVR channels. Delivering significant contact deflection and reductions in average call handling times, as well as increased first contact resolution, together with powerful customer analytics and outcome tracking, the V-Person Smart Help platform is the most compelling self-service product in the world today.
Creative Virtual is headquartered in the United Kingdom with operations in the United States, Australia, New Zealand, India, Singapore and Hong Kong. For more information about Creative Virtual and V-Person technology, please visit our website at https://www.creativevirtual.com.