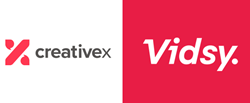 Marketers can achieve creative excellence and transform their operations by embedding creative measurement directly into the production process.
NEW YORK (PRWEB) November 01, 2021
CreativeX, a technology company that powers creative decision-making for many of the world's leading brands, announced today a partnership with Vidsy, a technology platform that links brands with content creators to produce original mobile video ads. The collaboration will help brands ensure every Vidsy video ad meets established quality standards by streamlining the creative process and measurement into one workflow.
The creative production process has become increasingly complex, with marketers required to generate content quickly, efficiently, and consistently across multiple platforms and formats. Additionally, marketers are under pressure to demonstrate ROI by connecting creative execution to media effectiveness.
CreativeX and Vidsy both help brands tackle the challenges around content creation. The partnership solves the lack of efficiency driven by creating and measuring assets on different platforms. Rather than using CreativeX and Vidsy as separate platforms, mutual clients will be able to view and optimize content directly from Vidsy.
"With CreativeX's Pre-Flight technology combining with Vidsy's platform, creative production and measurement will be easier than ever before," said Anastasia Leng, Co-Founder and CEO at CreativeX. "Marketers can achieve creative excellence and transform their operations by embedding creative measurement directly into the production process."
Recent research from CreativeX demonstrates that content with a high Creative Quality Score (content that adopts statistically-proven creative elements such as platform best practices) is linked to significantly reduced CPMs, lower Cost per Completed Views (CPCVs), and improved ad recall. The partnership between CreativeX and Vidsy will provide a clear line of sight to ROI for videos ads that are created with different objectives, audiences, and platforms in mind.
Video ads will be checked for a Creative Quality Score alongside brand-specific and fully customizable creative elements or best practices that have proven to increase brand consistency and effectiveness. This new streamlined way of working will enable marketers to consistently create video ads that achieve creative excellence across multiple digital and social platforms and run more impactful creative campaigns.
"CMO's today must transform their marketing and creative production operations for a new world of e-commerce and social that is fueled by video," said Gerard Keeley, CEO at Vidsy. "By working together, Vidsy and CreativeX will empower brands to achieve their goals by delivering more effective video ads and garnering new insights through a simple process that is creatively driven and data-informed."
About CreativeX
CreativeX helps marketers at the world's leading brands, including Unilever, Mondelez, Facebook, Nestle, and Heineken, achieve creative excellence through AI-powered technology. CreativeX helps brands measure creative elements within their creative assets to improve creative quality, brand consistency, regulatory compliance, and representation in their campaigns globally. Founded in 2015, the company is headquartered in New York City with offices in London and Portland, Oregon. Learn more at creativex.com.
About Vidsy
Vidsy is the new way to create video ads across digital. Vidsy's technology platform, network of over 8,000 creators and pioneering creative system enables FT500 brands to produce effective creative, efficiently and consistently across digital. Vidsy is a trusted partner of Facebook, Instagram, Google, Youtube, Snapchat, TikTok, Pinterest and Twitter with hubs in London, New York and Los Angeles. Learn more at vidsy.co