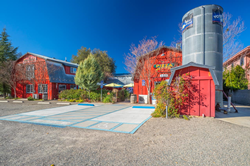 "There is no other lifestyle opportunity that compares with the financial stability, aesthetic environment, versatility and expansion possibilities being offered with this rare and special property in the San Diego Backcountry, the Wynola Pizza & Bistro Estate!" - Donn Bree
SAN DIEGO (PRWEB) February 27, 2019
This rare property in Julian, California, features a 5+ acre commercial property with a 7200 ESF building, turn-key restaurant and bar business opportunity with 18-years proven history, a full liquor and music license, ample parking and space for special events; and a custom vintage ranch home on the contiguous 26+ acres. Situated on Highway 78 between Julian and Santa Ysabel, the property is in a prime location attracting backcountry visitors and the local community.
The Wynola Pizza and Bistro estate offers an art-filled escape with custom installations from local artists, including the world-famous San Diego designer James Hubbell. From the custom bar top inspired by Southern California and Japanese painting techniques or the wood-burning pizza oven decorated with mosaic tile pieces gathered from around the world, the restaurant is covered in personal artistic touches.
Hubbell, a well-known artist, designer, humanitarian and environmentalist, is internationally revered for inventive, ecological businesses and uplifting public parks constructed with volunteers and other prominent artistic collaborators. His mosaics and architectural contributions can be seen around the world from international "Peace Parks" to the Chapel and Sea Ranch and the Onion House in Hawaii. Inside Wynola Pizza, Hubbell designed an acrylic, enamel and polyester resin bar top featuring a Japanese paint technique combined with Southern California surfboard construction techniques. When asked why he chose to draw horses in to the Wynola Pizza and Bistro bar top in 2001, Hubbell stated "I simply just liked horses. One of the reasons I got into art was to draw horses." Hubbell's contributions can be found throughout the bistro.
In the Julian backcountry, there are no other business opportunities or undeveloped commercial areas offering the same potential for expansion. The zoning, usable acreage and on-site parking combined with a successful business following, solid infrastructure, and foundation for growth, makes the Wynola Pizza and Bistro estate the ideal investment opportunity.
Red Hawk Realty is pleased to list all three properties for $3,995,000.If sold separately, the commercial property is listed at $2,595,000, which includes a prominent 7200 ESF building with ample parking on 5+ acres of land for expansion and further business opportunity. The Wynola Pizza and Bistro business opportunity can be sold separately for $595,000. Adjacent to the commercial property and business, the residential property sits on 26+ acres. The classic ranch style home was built in 1934 featuring seasonal ponds and sweeping views in a designated Dark Sky area. The residential listing is offered for $1,295,000.
The Wynola Pizza and Bistro estate offers exceptional versatility, great utility, and option for expansion. Well respected in the community, it is a gathering place for families, friends, musicians and patrons from near and afar.
About Red Hawk Realty
Donn Bree & the Red Hawk Realty team specialize in representing clients in the purchase and sale of land, ranch, environmental mitigation, residential, commercial and investment properties and offer assessment, valuation and independent consulting services. With a Ph.D. in Natural Sciences, Donn offers a distinct value with extensive knowledge of the biological environment, specific to geology, hydrology and vegetation. Red Hawk Realty has knowledgeable, professional agents who are highly proficient and offer guidance in market conditions, trends, inventory and local area information with a strong emphasis on high quality client services. Team members work together, enhancing accessibility and reliability. We know the backcountry and beyond!