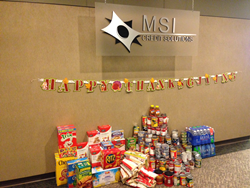 MSI Credit Solutions is always looking for more ways to support the community.
Frisco, TX (PRWEB) November 25, 2014
Throughout the month of November, MSI Credit Solutions is giving back to the community by hosting their annual office canned food drive. MSI is a proud supporter of the local community and encourages all their employees to help those in need by giving monetary or canned good donations to give back to the community.
Over the month, MSI is expecting to collect more than $600 worth of canned food goods. Everything collected will then be donated to local charities and churches in the Dallas area. MSI looks forward to the canned food drive and hopes that their charitable efforts can help make a difference in the local community.
MSI will also hold their annual Thanksgiving potluck this month for their employees and their families. MSI will be celebrating the holiday and giving thanks for their employees, customers and loved ones. All employees are encouraged to join in the celebration and to bring their families.
MSI Credit Solutions is always looking for more ways to support the community. They have participated in a variety of drives and programs that have benefitted the North Texas community, including blood drives, toy drives and the Frisco "Adopt a Street" program. To learn more about MSI's numerous charitable efforts, visit http://www.msicreditdfw.com/community/.
As one of the top credit repair companies in the industry, MSI Credit Solutions is known for providing superior credit restoration and consulting services and solutions to their clients. They help each client by guiding them through the entire process, helping to increase credit scores and develop credit repair strategies.
MSI Credit Solutions operates two offices, their headquarters located at 12790 Merit Drive, Suite 614, Dallas, TX 75251 and the Round Rock location at 3000 Joe DiMaggio Blvd. Suite 87, Round Rock, TX 78665. For more information about MSI Credit Solutions, call 855-209-9417 or visit their website at http://www.msicreditdfw.com/.