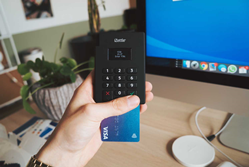 This service is the obvious choice for anyone needing credit repair, and we're pleased to give Sky Blue our top ranking in 2020.
OVERLAND PARK, Kan. (PRWEB) November 26, 2020
TopConsumerReviews.com recently affirmed the top-ranked status of Sky Blue Credit Repair, an industry leader among providers of Credit Repair services.
After decades of a devil-may-care approach to credit, the American public seems to finally understand the importance of a good credit score. The better one's credit, the easier it is to be approved to rent an apartment or buy a home, secure an auto loan, or even get funding for higher education. What happens when a person realizes this after making some poor financial choices? Is it too late?
The good news is that one's credit history can be repaired, resulting in the resolution of outstanding issues and a higher credit score. Some consumers find it challenging to navigate the process of negotiating with creditors, removing negative reports from their credit history, and consolidating debt. Fortunately, there are reputable credit repair services that take out all the guesswork, putting their decades of expertise into practice to help clients improve their credit histories step-by-step and often doing all of the work on their behalf. The best services take it a step further, working with their customers to help them develop a plan for continued financial stability going forward.
"For over 30 years, Sky Blue has helped clients throughout the United States to achieve a healthy credit history," affirmed Brian Dolezal of TopConsumerReviews.com, LLC. "Although it can feel daunting to work on improving your credit score, you can count on the Sky Blue experience to be 'happy and stress-free' just as they promise. Your initial consultation and review with a representative is absolutely free, and you won't be pushed into signing up for any services that aren't a good fit for your situation. If you choose to become a Sky Blue client, your rep will get right to work, disputing at least 5 items with each credit bureau every 35 days. You can rest assured that your decision to use this service is no-risk because of their condition-free guarantee: in the first 90 days of your paid membership, you can get a full refund for any reason. Sky Blue also allows you to pause your service at any time. Plus, clients continue to compliment Sky Blue for being effective, honest, and affordable. This service is the obvious choice for anyone needing credit repair, and we're pleased to give Sky Blue our top ranking in 2020."
To find out more about Sky Blue and other Credit Repair services, including reviews and comparison rankings, please visit the Credit Repair Services category of TopConsumerReviews.com at https://www.topconsumerreviews.com/credit-repair.
About Sky Blue
Sky Blue Credit is dedicated to credit repair, focusing solely on helping customers reach their credit goals through repair and restoration services since 1989. They pride themselves on speed, disputing 15 items every 35 days, as well as giving intelligent guidance with respect to optimizing customers' credit scores.
About TopConsumerReviews.com
TopConsumerReviews.com is a leading provider of reviews and rankings for thousands of consumer products and services. From Credit Repair to Debt Relief and Personal Loans, TopConsumerReviews.com delivers in-depth product evaluations in order to make purchasing decisions easier.