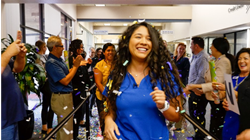 "Big Prize Savings was started for people like Natalie, and that's why we're so excited to award the saving incentive prize to her. Natalie is an example of how saving money can lead to great opportunities."
BREA, Calif. (PRWEB) August 20, 2019
At the check presentation Natalie remarked, "Big Prize Savings is a big motivator to keep saving, and with this money I actually want to keep saving! This credit union is so different from any other bank. Literally everyone treats you like family!"
Based on research conducted by the Harvard Business School and changes in state legislation permitting prize- linked savings accounts, programs like Big Prize Savings help to promote healthy money-saving habits by offering cash incentives to savers who display consistent saving activity.
At the end of each month, Big Prize Savings accountholders who maintain an average monthly daily savings balance of just $500 or more receive one entry for every $25 saved, so savers who add more to their account earn more chances to win. For example, a saver with a daily average of $500 saved in a month will receive 20 entries whereas someone who saves $525 will receive 21 entries for the cash prize drawings.
Prizes offered include a $1,000 cash prize every month, four $10,000 prizes per year, and a $50,000 annual grand prize at the year's end. American First makes Big Prize Savings accounts available to their members and to individuals in Southern California. Others who qualify for credit union membership through family, their employer, or a community group are also eligible to participate. The Big Prize Savings account has no fees and pays interest on qualified balances.
"Big Prize Savings was started for people like Natalie, and that's why we're so excited to award the saving incentive prize to her. Natalie is an example of how saving money can lead to great opportunities," said Jon Shigematsu, CEO/President of American First Credit Union. "This saving incentive program aligns perfectly with our mission to help people in our community and encourage a good savings habit."
To find out how you can open a Big Prize Savings account, visit bigprizesavings.com or call American First Credit Union at (800) 290-1112.
About American First
American First Credit Union is based in Orange County, California. We provide competitive savings and financing services for individuals and businesses alike. Since 1952, our credit union has operated under a "people helping people" philosophy, prioritizing community involvement through volunteer hours, cooperation with numerous charitable causes and financial initiatives that help broaden opportunities so that all can prosper. To learn more about us, visit amerfirst.org.