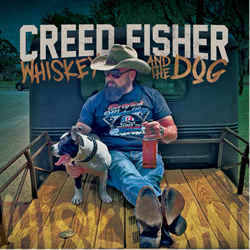 A rollercoaster of emotions; laughs, cheers with drinks and songs that will make you want to cry.
NASHVILLE, Tenn. (PRWEB) September 08, 2021
With over 22 million combined streams on Spotify and over 17 million views on YouTube with past releases, "Life of A Workin' Man," "The Way That I Am," and "This Place Called USA," Texas born and bred southern rock artist Creed Fisher is gearing up for the release of a new album, Whiskey and the Dog, on Oct. 22.
Released through Dirt Rock Empire and distributed by CMDSHFT, the 14-track album reflects Fisher's hardships, outlaw living, and blue-collar lifestyle and represents a community of hard-working men and women. Produced by Bart Rose, Josh Rodgers, and Fisher, Whiskey and the Dog is now available for pre-save on all streaming services here.
With eleven songs written entirely by himself and three others co-written with Mark Jones, Whiskey and The Dog is different than anything Fisher has done to date and stays true to who he is. Unapologetic, patriotic, and passionate, the album remains true to Creed Fisher's unwavering form, speaking to and for his fans. His songwriting harkens back to the roots of genuine outlaw country music, taking listeners back to a place and time when the fine art of storytelling flowed effortlessly.
Fisher promises fans, "A rollercoaster of emotions; laughs, cheers with drinks and songs that will make you want to cry." When describing his aspirations for the album, Fisher states, "I hope fans walk away knowing that I'm still in the trenches fighting this battle for Real Country Music. We haven't lost a step; if anything, this album is stronger than ever and shows that Creed Fisher is a force to be reckoned with in Outlaw Country Music."
Fisher's second single off the album, "High on the Bottle," is out now along with the official music video, which can be seen here. The single is available on all streaming services here. With the strum of a guitar and his unfiltered, seasoned vocals, the track gives fans a listen into the album's southern rock, honky-tonk country tone.
"High on the Bottle" is personal to Fisher as it stands as a real-life example of his past self choosing between his music dream and the woman he loved. Fisher explains, "It's a tough one to understand if you haven't lived it. There's a personal side that isn't so glamorous in this business that other musicians can agree to. It's the rigors of being on the road. Always having to be here and there makes for the biggest challenge, often times-let downs. Overall, music is what I love and what I will continue to do as I watch those white lines on the highways continue to zip right past the window as life passes us all."
Currently, Creed Fisher is on tour with his most recent album release, How Country Music Sounded Before It All Went to Shit, Vol. 1, and is experiencing success at Texas radio. With his last three albums debuting in the Top 5 on iTunes, Fisher hopes his new album Whiskey and the Dog will continue to help him defy the odds.
Like a steely-eyed gunslinger from a Sergio Leone western, he is a man of few words and lets his music tell his story. Fisher has never been one to sell his soul to trends. Keeping it real means writing songs that real people can relate to; the good, bad, and even the ugly. His previous singles, "Rock & Roll Man," "Be the Hope," "I'm Growing Older, But I'm Not Growing Up," and "A Few Good Ol' Cowboys" all hit Top 10, Top 25, or Top 30 on the Texas Charts. He was also named the BigStar97 Outlaw Country artist of the Year in 2018.
Today, Fisher has upped the ante, joining forces with renegade record label Dirt Rock Empire for the release.
Fans can stay up to date on news and announcements from Creed Fisher by checking out his website or by following along with his journey on Instagram, Facebook, and Twitter. For tour information visit: https://creedfisher.net/tour/.
Whiskey and the Dog Track List:
1. "High on The Bottle" (Creed Fisher)
2. "This Town" (Creed Fisher)
3. "Girls with Big Titties" (Creed Fisher)
4. "Whiskey and The Dog" (Creed Fisher and Mark Jones)
5. "Hundred Dollars Short" (Creed Fisher)
6. "Gray Skys" (Creed Fisher and Mark Jones)
7. "Don't California My Texas" (Creed Fisher and Mark Jones)
8. "The Good Ol' U.S. of A." (Creed Fisher)
9. "Down To The Riverbank" (Creed Fisher)
10. "Find My Way Back Home" (Creed Fisher)
11. "Honkey Tonk Drankin'" (Creed Fisher)
12. "I'm Crazy And You're Gone" (Creed Fisher)
13. "Jesus, Haggard & Jones" (Creed Fisher and Mark Jones)
14. "Hankles" (Creed Fisher)