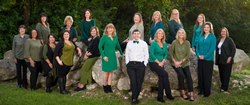 Depending on your cosmetic goals, we will attentively listen to the results you desire, and together we can determine the best treatment options for you.
WACO, Texas (PRWEB) November 27, 2019
Modern dental practice, Creekwood Dental Arts, now offers patients seeking orthodontics the option of ClearCorrect aligners. With these state-of-the-art aligners, patients in Waco, TX can enjoy clear braces without the obvious, and often uncomfortable, metal brackets or wires. ClearCorrect can conveniently straighten misaligned teeth and give patients a smile they can be proud to show off while also improving oral function.
"Cosmetic dentistry can be used to improve the appearance of imperfections in teeth," said Dr. Michelle Hinds. "Depending on your cosmetic goals, we will attentively listen to the results you desire, and together we can determine the best treatment options for you."
ClearCorrect, a form of cosmetic and functional dentistry, is an orthodontic treatment that aligns teeth using comfortable, nearly invisible aligners. These aligners are made from durable plastic and are designed to slightly adjust the position of teeth over one or two weeks. After two weeks, the next set of aligners is worn to further adjust the bite. By the end of treatment, patients often experience a straight, beautiful and healthy smile in less time than traditional orthodontics. Additional benefits of ClearCorrect clear braces include:

Ability to eat almost any foods
Easy to keep teeth and gums clean
Minimal chance for breaking
Only need to be worn for 20-22 hours a day
Comfortable and discreet while being worn
Having straight teeth is more than just a cosmetic benefit. Patients who have severely crooked, gapped or misaligned teeth can suffer from oral and overall health concerns as well. Misaligned teeth can make it more difficult to clean when brushing and flossing, leading to bacteria buildup, cavities and possible gum disease. Additionally, misaligned teeth can affect the bite of a patient, later causing jaw pain or TMJ disorder. ClearCorrect clear braces can give patients a healthy bite by adjusting the position of their teeth to avoid any of these concerns.
Creekwood Dental Arts offers comprehensive dental care ranging from cosmetic dentistry, to functional and restorative care. The practice also offers porcelain veneers and teeth whitening to improve the look of a patient's smile, while offering complex dental implant and full mouth dental implant solutions for those missing some or all of their teeth. Dentists, Drs. Donna Miller, Michelle Hinds and Austin Green, take a whole-body approach to care and strive to help patients achieve a healthy mouth, which in turn leads to a healthy life.
Patients interested in aligning their teeth with ClearCorrect clear braces in Waco, TX can schedule an orthodontic appointment with Dr. Donna Miller, Dr. Hinds and Dr. Austin Green by calling the practice at 254-870-9026 or visiting http://www.creekwooddentalarts.com.
About the Dentists
Creekwood Dental Arts is a general dental practice offering personalized dental care to patients in Waco, TX. Drs. Donna G. Miller, Michelle Hinds and Austin Green provide an array of services with state-of-the-art technology. Dr. Miller was honored to receive The Mastership Award from the Academy of General Dentistry, the highest and most respected award in general dentistry. To learn more about Drs. Miller, Hinds and Green or the services they offer, please visit their website at CreekwoodDentalArts.com or call 254-870-9026 to schedule an appointment.