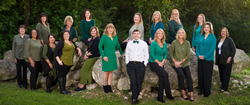 Their unmatched patient experience and high attention-to-detail have not stopped amid the novel coronavirus outbreak.
Waco, TX (PRWEB) June 24, 2020
Creekwood Dental Arts announces that it has fully reopened to new and existing patients. Emergency dentistry, annual dental cleanings, and gum disease treatments are all among the high-quality services this dental team offers. To preserve the health of their patients, their staff, and their community amid the COVID-19 pandemic, Drs. Donna Miller, Michelle Hinds, and Austin Green have implemented additional safety protocols and sanitation guidelines in accordance with the Centers for Disease Control and Prevention (CDC).
The dentists at Creekwood Dental Arts offer caring and comprehensive care from one state-of-the-art location. Family dentistry, general hygiene cleanings, and even full mouth dental implants are all available at this modern practice. Experienced professionals, this team recognizes the connection oral health and systemic health share. If left untreated oral infection, commonly a sign of gum disease, can enter the bloodstream through the gums and lead to chronic inflammation and a strained immune system. In order to preserve their patients' oral health and an overall immune system health, they have been eager to reopen and provide the trusted care their community needs.
Their unmatched patient experience and high attention-to-detail have not stopped amid the novel coronavirus outbreak. Closely monitoring guidelines and recommendations from the CDC and the American Dental Association (ADA) along with local and federal authorities, the entire team at Creekwood Dental Arts is taking additional measures to ensure the safety of their patients now more than ever.
All staff members now wear personal protective equipment (PPE) when with patients. Before and after a patient arrives, EPA-approved disinfecting chemicals are used to sanitize each patient room. The entire practice will also receive a deep cleaning more frequently. To reduce the number of patients in the waiting room at one time, patients are encouraged to review their paperwork online before arriving and use their cars as their own personal waiting rooms.
The dentists at Creekwood Dental Arts welcome new and existing patients to receive gum disease treatment, dental implants, cosmetic dentistry and everything in between at their practice in Waco, TX. Those interested in receiving the high-quality dental care they need to provide a healthy boost their immune system can call 254-870-9026 to schedule a personalized appointment and learn more about their new safety guidelines.
About the Dentists
Creekwood Dental Arts is a general dental practice offering personalized dental care to patients in Waco, TX. Drs. Donna G. Miller, Michelle Hinds and Austin Green provide an array of services with state-of-the-art technology. Dr. Miller was honored to receive The Mastership Award from the Academy of General Dentistry, the highest and most respected award in general dentistry. To learn more about Drs. Miller, Hinds and Green or the services they offer, please visit their website at CreekwoodDentalArts.com or call 254-870-9026 to schedule an appointment.