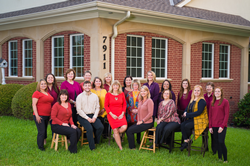 There's a real camaraderie in the office. Our team enjoys spending time together and interacting with patients. It creates a more relaxed setting for patients
Waco, TX (PRWEB) August 12, 2020
General and cosmetic dentistry practice, Creekwood Dental Arts recently ranked #1 on the Locals Love Us list for the second year in a row and was voted The Best Dentist in Waco by their patients. The practice offers the expertise of award-winning dentist in Waco, TX, Dr. Donna Miller and two additional associates, Drs. Michelle Hinds and Austin Green, as well as an experienced and friendly staff.
The "Best Dentist in Waco" title is awarded through Locals Love Us Waco, a website that allows members of the community to vote in over 200 different categories for their favorite local businesses. With only a maximum of five winners per category, dentistry is one of the most sought-after and competitive categories on the list. Votes are cast by patients of each participating dental practice, and those with the most votes win the title of Best Dentist in Waco. The team at Creekwood Dental Arts is pleased their practice received this esteemed title and are delighted that their patients' votes have again earned them top ranking in the Locals Love Us dentist directory on the website.
The dentists at Creekwood Dental Arts, led by Dr. Miller, who was also voted 2016 Texas Dentist of the Year™ from the Texas Academy of General Dentistry, are pleased to continue providing the dedicated and compassionate dental care that helped them win the Best Dentist award. The team surpasses standards in their high-quality treatments, using sophisticated technologies and techniques to provide personalized and efficient general and cosmetic dentistry services, including crowns and bridges, orthodontics, porcelain veneers and professional teeth whitening. This team of dentists also has extensive experience in family dentistry as well as laser dentistry, teeth-in-a-day dental implants and sedation dentistry.
"There's a real camaraderie in the office," said Dr. Hinds. "Our team enjoys spending time together and interacting with patients. It creates a more relaxed setting for patients." The rest of the dental team and patients alike agree that Creekwood Dental Arts is one of the best practices to go to for friendly, caring and personalized dental care. With the Best Dentist in Waco title, the dentists are excited to help even more patients restore their smiles in a comfortable and safe atmosphere.
Patients interested in general or cosmetic dentistry services can contact the dentists in Waco, TX. Creekwood Dental Arts can be reached by calling 254-870-9026 or visiting CreekwoodDentalArts.com.
About the Practice
Creekwood Dental Arts is a general dental practice offering personalized dental care to patients in Waco, TX. Drs. Donna G. Miller, Michelle Hinds and Austin Green provide an array of services with state-of-the-art technology. Dr. Miller was voted the Texas Dentist of the Year™ from the Texas Academy of General Dentistry as well as accomplished The Mastership Award from the Academy of General Dentistry, the highest and most respected award in general dentistry. Creekwood Dental Arts is also an award-winning team, over the last two years they have received The Best Dentist Award by Locals Love Us Waco. To learn more about Drs. Miller, Hinds and Green or the services they offer, please visit their website at CreekwoodDentalArts.com or call 254-870-9026 to schedule an appointment.