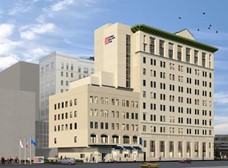 Crescent has numerous historic properties in our portfolio, but this property's transformation from a 1920s bank will definitely create a memorable experience for guests
FLINT, Mich. (PRWEB) November 12, 2020
Crescent Hotels & Resorts has opened the Hilton Garden Inn Flint Downtown. Crescent, based in Fairfax, Virginia is a nationally recognized operator of major hotels and resorts throughout the United States and Canada.
The historic building underwent a transformation from Genesee County Savings Bank to the new Hilton Garden Inn. The original Italian Renaissance Revival design of the banking hall and base of the tower was completed in 1920, and a streamlined and elegant Art Deco style was incorporated in 1947. The hotel opened to the public on November 2, 2020 and retains much of the Art Deco detailing as well as the original marble wainscoting, base moldings and door casings.
"This impressive hotel is sure to delight and wow our guest as they experience the Hilton Garden Inn Flint Downtown with a twist, mixing modern, interior design with the building's historic grandeur inside and out," said Michael George, chief executive officer of Crescent Hotels & Resorts. "Crescent has numerous historic properties in our portfolio, but this property's transformation from a 1920s bank will definitely create a memorable experience for guests."
The 11-story Hilton Garden Inn Flint Downtown includes an upscale Italian restaurant and a ground-floor coffee shop; more than 3,000 sq. ft. of event space—including five meeting rooms and banquet center; and rooftop lounge and deck that offers amazing views. The historic Art Deco style continues throughout the entire building, including the guest room furniture and artwork.
The hotel is conveniently located less than one mile from The University of Michigan-Flint and the Farmer's Market, and within a three-mile radius of the Sloan Museum, Capital Theatre, and Whiting Auditorium. Wilson, Riverbank, and Chevy Commons parks are all within five minutes.
For more information or to book your stay, visit http://www.hgi.com or call 1-810-233-9110.
About Crescent Hotels & Resorts
Crescent Hotels & Resorts is an award winning, nationally recognized, operator of hotels and resorts. Crescent currently operates over 100 hotels & resorts in the United States & Canada. Crescent is one of the few elite management companies approved to operate upper-upscale and luxury hotels under the brand families of Marriott, Hilton & Hyatt. Crescent also operates a collection of lifestyle independent lifestyle hotels and resorts under the Latitudes Collection umbrella. Crescent's clients include premiere REITs, private equity firms and major developers. For more information, please visit http://www.crescenthotels.com and http://www.latitudesbycrescent.com or connect with Crescent on LinkedIn.