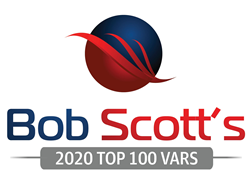 "Wow, eight years in a row!" says Tim Thompson, Partner at Crestwood Associates. "We don't need awards to know how great our team is, but it's always great to get recognized. Our people work tirelessly to provide value for our clients, and placement on this list is just one testament to that."
SCHAUMBURG, Ill. and ORLANDO, Fla. (PRWEB) June 19, 2020
Crestwood Associates has again been named to the Bob Scott's Top 100 VARs for 2020 for the eighth year in a row. The Top 100 resellers are chosen from organizations that sell and implement Enterprise Resource Planning (ERP) and accounting software.
"Wow, eight years in a row!" says Tim Thompson, Partner at Crestwood Associates. "We don't need awards to know how great our team is, but it's always great to get recognized. Our people work tirelessly to provide value for our clients, and placement on this list is just one testament to that."
The selection is based on annual revenue generated by each reseller. A special report that includes names of the organizations selected for this year's Top 100 list, ranked by revenue, is downloadable at http://www.erpglobalinsights.com.
About Crestwood Associates, LLC
Founded in 1998 and headquartered in Schaumburg, Illinois, Crestwood Associates (http://www.crestwood.com) is a premier Cloud Service Provider (CSP), Gold-Certified Microsoft Dynamics Partner, 10-time President's Club Award Winner, and 2017 Inner Circle recipient. In addition, Crestwood was honored to be chosen as Acumatica's US Partner of the Year in 2016 and 2017, and a member of Acumatica's President's Club for 2018 and 2019, with numerous Acumatica MVP awards. Crestwood delivers a variety of business solutions, including: Acumatica Cloud ERP, Microsoft Dynamics GP, Microsoft Dynamics SL, Microsoft Dynamics CRM (now called Dynamics 365 for Sales), Microsoft Dynamics 365 Business Central, and Greentree applications. From accounting and financial reporting, to CRM, manufacturing, distribution, payroll and human resources, Crestwood Associates provides the tools and services that help businesses perform above and beyond the competition. The Crestwood team is comprised of over 45 certified professionals who provide in-depth industry experience and functional expertise.
About Bob Scott
Bob Scott has been informing and entertaining the mid-market financial software community via his email newsletters for 21 years. He has published this information via the Bob Scott's Insights newsletter - now known as ERP Global Insights - and website since 2009.
He has covered this market for nearly 29 years through print and electronic publications, first as technology editor of Accounting Today and then as the Editor of Accounting Technology from 1997 through 2009. He has covered the traditional tax and accounting profession during the same time and has continued to address that market.