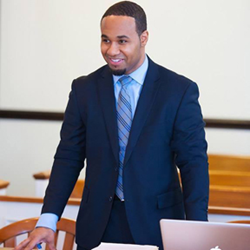 "A life sentence was on the table at one point. We convinced the judge to give him a three and a half year sentence."
PROVIDENCE, R.I. (PRWEB) November 09, 2021
Nelson A. Garcia Martinez, 40, pleaded guilty to transporting approximately $14 million worth of fentanyl across the country to Sturbridge, Massachusetts, for a payment of $6,000. At the time he agreed to participate, he had no knowledge of the specific drug being transported or its value. Garcia Martinez was employed as a truck driver operating out of California where he and his wife and children reside. He had no prior criminal history.
"If I could go back in time I would have never done it," stated Garcia Martinez, through a Spanish interpreter, "I ask for forgiveness from the state of Massachusetts . . . and the United States." Garcia Martinez is a native of El Salvador who has been working to build a life for his family in the United States, although he has illegal immigrant status.
The father of five was arrested in November of 2018 after delivering 15 kilograms of fentanyl connected to a large drug bust a month prior. Authorities obtained a warrant to track Garcia Martinez's phone and monitor his cross-country trip. He was charged with the distribution of 400 grams or more of fentanyl.
Garcia Martinez has been imprisoned since his 2018 arrest and has not seen his family since embarking on the trip from California to Massachusetts. The financial burden of cross-country visitation, coupled with losing their income from Garcia Martinez's trucking job, has prevented them from traveling to see him.
Noah J. Kilroy represented Garcia Martinez as his attorney in this drug trafficking case. Unlike many legal professionals, Kilroy has an in-depth understanding of the criminal justice system, having served time himself for drug trafficking. The experience of being incarcerated was life-changing for Kilroy, who now finds himself on the other side of the law, representing those who deserve a second chance, like the one he received.
Kilroy was abandoned at birth by a drug-addicted mother and shuffled through the foster care system. He eventually dropped out of high school and found a way to make ends meet the only way he knew how. He was arrested multiple times for selling drugs but not deterred. It wasn't until his last incarceration, in which he was arrested with over 2 kilograms of cocaine, that he chose to pursue a different path in life. He graduated from law school in 2013.
Nelson Garcia Martinez was also facing serious charges that could forever change his ability to be a present father and serve society in a meaningful way, after only one criminal offense.
"They're (considered) expendable," Kilroy said of drug mules. The attorney also noted that Garcia Martinez was not even told where specifically he was driving his tractor-trailer until he got to Massachusetts. He did not know the sellers or buyers of the product he was transporting.
Kilroy asked Judge Timothy S. Hillman for a 36-month sentence. Assistant U.S. Attorney Nadine Pellegrini requested 46 months due to the large number of drugs involved in the case. Judge Hillman split the requests and issued a sentence of 42 months in prison. Without zealous legal advocacy, Garcia Martinez could have faced much more significant penalties.
"A life sentence was on the table at one point. We convinced the judge to give him a three and a half year sentence," stated Kilroy.
The 42-month sentence will also include time served while in holding prior to the trial. Upon Kilroy's request, Judge Hillman agreed to recommend that Garcia Martinez be transferred to a federal prison close to his family in California.
US District Court for the District of Massachusetts (Worcester); case number 18CR-40049-TSH
Kilroy Law Firm
https://kilroylawfirm.com/
127 DORRANCE ST
PROVIDENCE, RI 02903
(401) 855-9023