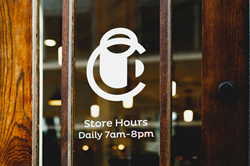 Crimson is our homage to the small coffee farmers who produce our favorite beverage. This elevated but approachable experience is the pinnacle of everything we offer.
Columbus, Ohio (PRWEB) October 31, 2020
Attention Columbus coffee lovers: It's time to immerse yourself in a world of exceptional coffee and tea, sourced from small coffee farms around the world!
Crimson, a new flagship retail concept from award-winning roaster Crimson Cup Coffee & Tea, has opened at 4066 Worth Avenue in the newest district at Easton Town Center in Columbus, Ohio.
Founder and President Greg Ubert said Crimson showcases extraordinary coffees and teas, innovative drink recipes, and relationships the company has cultivated with small-plot coffee farmers.
"Crimson is our homage to the small coffee farmers who produce our favorite beverage," he said. "It's a new expression of what coffee and community mean to us."
Gleaming with white tile and light wood accents, Crimson's open design invites guests to relax in an oasis of light. Expert baristas craft exquisite beverages from sustainably sourced ingredients.
"The result is an elevated but approachable experience," Ubert said. "It is the pinnacle of everything we offer."
The story of Crimson begins in the narrow band of coffee-growing countries sometimes called the "bean belt," found in latitudes between 25 degrees north and 30 degrees south of the equator.
"For over a decade, we have been trekking into remote mountains to form relationships with small coffee farmers," said Director of Sustainability Brandon Bir. "Last year, we traveled over 100,000 miles – by plane, boat, bus, jeep, mule and foot – to source incredible coffee, tea and other ingredients.
With deep relationships in Ethiopia, Kenya, Guatemala, Honduras, Peru, and other countries, Crimson Cup is forging a relationship chain that extends from the consumer all the way back to the growing community impacted by each cup.
"Crimson is the link that brings everything together," Bir said. "It showcases the crème de la crème of our coffees in innovative ways."
Through its unique Friend2Farmer initiatives, the company invests in life-enriching projects that promote the education, health, sustainability and economic growth of farmers and communities.
"Our drive to invest in communities rather than just to find the best coffee each year gives us access to outstanding coffees sourced through mutual loyalty and benefit," Bir said.
At its Columbus headquarters, Crimson Cup transforms raw beans into roasts that win national coffee awards – including Roast magazine's Roaster of the Year Award and the Golden Bean Small Franchise/Chain Roaster Championship within the past five years. It also won 2017 and 2020 Good Food Awards, which recognize the nation's best tasting, most responsibly sourced coffees.
Bir said Crimson Cup's relationships, quality and awards give the company a platform to promote the hard work of coffee farmers.
"Few consumers understand how hard it is for farmers to grow, process and market the coffee in their cup," he said. "With Crimson, we plan to help change that!"
Beyond coffee and tea, Crimson emphasizes sustainable sourcing in every facet. "We buy vanilla beans from a single farm in Guatemala," Bir said. "Our cocoa comes from Peruvian farmers with whom we have long-standing relationships."
The new shop features Modbar espresso, pour-over coffee units and skilled baristas who bring delectable beverages to life. Signature pastries and breakfast items delight sweet and savory taste buds.
Open from 7 a.m. to 8 p.m. daily, Crimson is part of the Easton Town Center expansion, which has 140,000 square feet of new retail and restaurant space on 16 acres in the center's northeast quadrant.
"Crimson is a one of a kind addition to Easton's newest district," said Jennifer Peterson, Chief Executive, Easton. "This new Crimson concept is redefining the coffee experience. Featuring innovative drinks along with a dedication to coffee communities here in Ohio and around the world, Crimson at Easton Town
Center is the perfect place to grab a socially distanced cup of coffee and reconnect with friends inside or on the patio," she added.
For updates and announcements, follow Crimson's Facebook and Instagram pages.
About Crimson Cup Coffee & Tea
Columbus, Ohio coffee roaster Crimson Cup Coffee & Tea is a 2020 Good Food Award winner, 2019 Golden Bean Champion for Small Franchise/Chain Roaster and Roast magazine's 2016 Macro Roaster of the Year. Since 1991, Crimson Cup has roasted sustainably sourced craft coffee for consumers and wholesale coffee customers.
Through its 7 Steps to Success coffee franchise alternative program, the company teaches entrepreneurs to open independent coffee houses in their local communities.
Crimson Cup also supports life-enriching projects through its Friend2Farmer™ initiatives, promoting the education, health, sustainability and economic growth of small-plot coffee farmers and their communities.
Crimson Cup coffee is available through over 350 independent coffee houses, grocers, college and universities, restaurants and food service operations across 30 states, Guam and Bangladesh. The company also operates several Crimson Cup Coffee Houses and a new Crimson retail flagship store. To learn more, visit crimsoncup.com, or follow the company on Facebook, Instagram and Twitter.
About Easton
Co-Developed by The Georgetown Company and L Brands, Easton is a 1,300-acre mixed use destination located in the northeast quadrant of Columbus, Ohio. The master-planned development includes a business park with 30,000+ employees, a town center, a large format power center, residential development, hotels, automobile dealerships, indoor and outdoor athletic fields and more. At the heart of the master planned development is Easton Town Center, the Midwest's premier destination for shopping, dining and entertainment with over 240 best-in-class shops, restaurants and entertainment venues. Ranked among the top 30 highest-performing retail centers in the U.S. with sales over $1 billion, Chain Store Age named Easton Town Center the No. 1 Retail Center Experience in the nation in 2019 and it was also designated a Top Five Most Innovative Malls in the World by Inside Retail. Most recently, Easton was selected as a Top 10 COMEBACK Retail Center Experience, based on the response to COVID and the safe phased reopening. Easton Town Center was co-developed by L Brands, The Georgetown Company and Steiner + Associates, and is managed by Steiner + Associates. It is currently undergoing a $500 million expansion which features 140,000 square feet of new entertainment, restaurant, hotel and retail offerings, in addition to 125,000 square feet of new office space and living options including recently opened RH Columbus, The Gallery at Easton Town Center, Forbidden Root, The Beeline, Crimson and Ivan Kane's Forty Deuce Café & Speakeasy Supper Club.