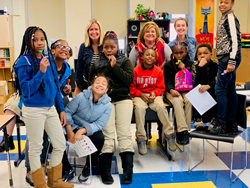 We were inspired to see how much students grew through last year's Project Dream pilot program and can't wait to help them achieve an even bigger goal this year.
COLUMBUS, Ohio (PRWEB) October 26, 2018
Fifth-grade students at Ohio Avenue Elementary School in Columbus, Ohio have a challenging goal this school year: To Make the Word a Better Place. They are working toward this goal with the aid of volunteers from coffee roaster Crimson Cup Coffee & Tea. The effort is part of the Project Dream initiative of local nonprofit See Kids Dream.
This is Crimson Cup's second year working with Ohio Avenue students. "We were inspired to see how much students grew through last year's Project Dream pilot program," said Vice President of Marketing Melissa Rogner, who leads Crimson Cup's team of Janie Brooks, Alex Reed and a rotating group of other volunteers. "We can't wait to help them achieve an even bigger goal this year."
During the 2017-2018 school year, the Crimson Cup team met with 10 fifth-grade students to help them learn about community issues and how they could make a difference. As a group, they chose to address homelessness by conducting an advocacy campaign for Huckleberry House, a local shelter for runaway and homeless teens. The campaign included a video produced by the students.
New to the program this year is a segment called Connection Time, which takes place during each weekly meeting. For this segment, the class breaks into small groups. Project Dream volunteers help lead meaningful discussions about the topic of the day. Only one student can share at a time, which helps students to feel more comfortable sharing their thoughts.
"There are lots of people and lots of opinions in the world and that's a good thing," said See Kids Dream Co-founder and Executive Director Laura Grindle. "Our goal is to develop the leadership potential of each student. Helping them learn to value their own thoughts, ideas and opinions is part of the process."
Grindle and her team developed Project Dream as a way for businesses to become involved in coaching students to make a difference in the world.
"In many schools, staff members have many more demands, than they have time," Grindle said. "Project Dream allows volunteers to fill the 'service learning coach' role typically filled by a school staff person."
Crimson Cup was the first private company to pilot the program. "We're thrilled to have Crimson Cup as a great community partner, Grindle said. "With their company as a model, we were able to find six more business partners to lead Project Dream initiatives during the 2018-2019 school year."
About Crimson Cup Coffee & Tea
Columbus, Ohio coffee roaster Crimson Cup Coffee & Tea is Roast magazine's 2016 Macro Roaster of the Year. Since 1991, Crimson Cup has roasted sustainably sourced specialty and craft coffee in small batches, which it sells directly to consumers and as wholesale coffee beans. The company also teaches entrepreneurs to run successful coffee houses through its coffee franchise alternative program, which includes a coffee shop business plan. Crimson Cup coffee is available through a community of more than 350 independent coffee houses, grocers, college and universities, restaurants and food service operations across 37 states, Guam and Bangladesh, as well as the company's own Crimson Cup Coffee Houses. To learn more, visit crimsoncup.com.
About See Kids Dream
Founded by Bill and Laura Grindle in 2008, See Kids Dream is a 501c3 not-for-profit organization with a mission to empower youth with the skills, motivation and confidence to make the world a better place. Working with central Ohio educators and other non-profits, See Kids Dream creates and supports youth-driven service learning programs for ages 8-14. Through its Penny Harvest program, See Kids Dream has helped students raise more than $330,000 to support local community needs. To learn more, visit seekidsdream.org.