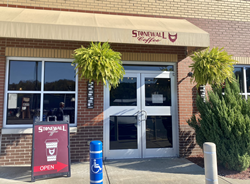 "Congratulations to Kevin and Sarah Zakariasen as they expand Stonewall Coffee! We've been excited to support them from startup to success." - Crimson Cup Founder and President Greg Ubert
BRIDGEPORT, W.V. (PRWEB) January 06, 2023
Columbus, Ohio-based Crimson Cup Coffee & Tea is proud to support Owners Kevin and Sarah Zakariasen in opening their second Stonewall Coffee location at 1219 Johnson Ave, Suite 103, in Bridgeport, West Virginia.
"Congratulations to Kevin and Sarah Zakariasen as they expand Stonewall Coffee," said Crimson Cup Founder and President Greg Ubert. "We've been excited to support them from startup to success."
The new Bridgeport location joins the couple's original Stonewall Coffee at 218 Court Street in historic downtown Clarksburg, which opened in 2016.
Both shops take their name from Clarksburg's most famous native son, Civil War General Thomas Johnathon "Stonewall" Jackson.
And both opened through Crimson Cup's 7 Steps to Success coffee shop startup program.
"We learned how to open a coffee shop through Crimson Cup, which has helped us from the very beginning," said Sarah Zakariasen.
The path to the first Stonewall Coffee began over a decade ago, when the Zakariasens settled with their seven children in Clarksburg after spending eight years as missionaries at an orphanage in South Africa.
The couple believed downtown Clarksburg was ripe for revitalization and saw an opportunity to strengthen the community through coffee.
"Our goal was to start a business we could run as a family," Sarah recalled. "And the Lord opened up the door for the coffee shop."
As they explored opening a coffee shop, the family visited a series of local cafés, including Jitters Coffee in Millersport, Ohio. Owner Martin Mann recommended Crimson Cup, which had helped him grow Jitters since 2012 through the 7 Steps to Success program.
The program is based on Ubert's book, 7 Steps to Success: a Common-sense Guide to Succeed in Specialty Coffee.
This proven system provides aspiring business owners with everything they need to start and operate a successful coffee shop – from writing a sound coffee shop business plan to calculating coffee shop startup costs and more.
"We began with a dream of opening a coffee shop, but there was so much we didn't know," Kevin Zakariasen said. "Where do you get your espresso machine? Where do you locate the machine in the store? How do you do the dance behind the counter to make drinks efficiently? The book and Crimson Cup's startup consultants answered all these questions and more."
Initially, he felt skeptical about buying the book. "I thought, '$69.95 for a paperback is a lot!'" he said.
"But now I know it's worth many times the cost," he added. "For example, the first chapter says not to buy used coffee equipment. Before reading the book, we bought a used espresso machine, and we had to replace it with a new one. Avoiding that mistake could have saved us $2,000 right at the start."
"The book does have a money back guarantee, but I doubt anyone returns it. It's that good!"
In Clarksburg, the couple found a historic building on the courthouse square downtown. They renovated it from the walls out, stripping dozens of layers of paint to reveal exposed brick walls, a cheery stone fireplace, dark hardwood trim and vintage stamped metal ceiling tiles.
Behind the bar, a portrait of Stonewall Jackson made entirely of pennies by their son Nathan holds court.
Besides Crimson Cup's award-winning coffee and coffee shop supplies, Sarah's fresh-baked cinnamon rolls and other sweet treats have attracted a devoted following.
"Our Clarksburg customers kept asking when we would come to other local communities," she said. "When a good location in Bridgeport opened up, we contacted Crimson Cup and started planning."
Crimson Cup's 7 Steps coffee shop startup consulting team provides ongoing support to new coffee shops, helping business owners overcome common hurdles and grow into successful enterprises.
A one-stop shop for independent coffee shops, Crimson Cup also supports customers with award-winning coffee and industry-leading coffee shop supplies.
Located in a busy suburban commercial and shopping district, Stonewall Coffee Bridgeport welcomes guests into a cozy seating area with warm hardwood flooring and stone accents on the counter and around a gas fireplace. A drive-thru serves coffee lovers on the go.
The entrepreneurs invite everyone in Harrison County and beyond to visit their Clarksburg and Bridgeport locations. "West Virginia gathers at Stonewall Coffee because of our great coffee, friendly service and cozy atmosphere," Kevin said.
Sarah observed that the two locations attract different audiences. "We see a lot more of family and friends getting together at Stonewall Bridgeport."
"A lot of businesspeople make our downtown Clarksburg shop their morning and afternoon pickup," she added. "And, being located next to the courthouse, we see people who are either celebrating or commiserating over marriages, adoptions, divorces and other legal proceedings."
Kevin said the response to the new Bridgeport location has been encouraging. "A lot of people have told us over and over again how glad they are to have us in Bridgeport, and we are super glad to be here as well," he said. "We're just grateful for everyone who comes through the doors."
Stonewall Coffee Bridgeport is open six days a week at 1219 Johnson Avenue, Suite 103. Follow the shop's Facebook page for news and updates.
Stonewall Coffee Clarksburg is open five days a week at 218 Court Street in historic downtown Clarksburg. Follow their Facebook page for the latest news.
About Crimson Cup Coffee & Tea
Founded in 1991, Crimson Cup is at the forefront of the coffee industry. Its attentive roasting, startup support and global partnerships are consciously designed for the greater good of communities around the world. Among other national recognitions, the company has earned 2020 and 2017 Good Food Awards, the 2019 Golden Bean Champion for Small Franchise/Chain Roaster and Roast magazine's 2016 Macro Roaster of the Year.
Crimson Cup travels the world searching for the perfect cup – driven by meaningful relationships, honesty and a shared vision for the future. Its Friend2Farmer initiatives foster respect and decency through mutually beneficial collaboration across local and global communities.
Through its 7 Steps to Success coffee shop startup program, the company teaches entrepreneurs how to open and run independent coffee houses in their local communities. By developing a coffee shop business plan, entrepreneurs gain insight into coffee shop startup costs.
Crimson Cup coffee is available through over 350 independent coffee houses, grocers, college and universities, restaurants and food service operations across 30 states, Guam and Bangladesh. The company also owns several Crimson Cup Coffee Shops and a new CRIMSON retail flagship store. To learn more, visit crimsoncup.com, or follow the company on Facebook and Instagram.