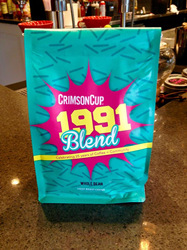 This is an awesome blend of our Café 1959 Colombia Mokka and NARSA Peru Honey Process Gesha coffees. We're proud to have sourced both of these amazing coffees through our Friend2Farmer direct trade program.
COLUMBUS, Ohio (PRWEB) May 31, 2019
Columbus coffee roaster Crimson Cup Coffee & Tea will compete for the title of America's Best Espresso at Coffee Fest Indianapolis on Saturday, June 1 and Sunday, June 2 at the Indiana Convention Center. The roaster is one of 20 facing off in the contest to find the nation's top three espresso roasts and blends.
Crimson Cup entered its 1991 Blend in the competition. The name of the exclusive blend of rare coffees alludes to the year Crimson Cup was founded in a tiny, one-room office in Columbus.
"This is an awesome blend of our Café 1959 Colombia Mokka, NARSA Peru Honey Process Gesha and Ethiopian Kossa Kebena coffees," said Greg Ubert, founder and president. "We're proud to have sourced these amazing coffees through our Friend2Farmer direct trade program." Through this program, Crimson Cup pays an above-market premium for the coffee and works with farmers on agricultural and community improvements.
Rare Bourbon mutant Mokka trees with very small seeds yield Café 1959 Colombia Mokka. Produced by La Sedelia Estate & Café 1959 in the Armenia region of Colombia, the coffee grows at elevations of 7,050 feet. After an American roast, this cherry-dried coffee displays tasting notes of cherry pastry, champagne and rosé wine.
NARSA Peru Honey Process Gesha is a Gesha varietal grown by Alberto Peralta Sanchez in Chanchamayo, Peru. The coffee is honey processed and dried at NARSA (NEGOCIACIONES AGROINDUSTRIAL AREVALO S. A.) a cooperative based in La Merced in Peru's Junín region. Since 1988, NARSA has focused on helping small coffee and cacao farmers in Peru's Central Highlands and Amazon regions to achieve market access throughout Peru and beyond.
Organic Ethiopian Kossa Kebena is produced by the Kabena Kossa farm in Western Ethiopia's Limmu Kossa District. A member of the Kossa Geshe co-op, the 1,000 hectare farm was established in 2009 as a land grant from Ethiopia's investment agency to safeguard some of the last remaining dense forest in the country. The farm grows heirloom variety coffee trees at an altitude of 5,000 to 6,200 feet. The coffee is dry processed on raised beds. A light roast by Crimson Cup produces an exceptional coffee with a syrupy body and tasting notes of bright fruit and sweet berries.
Crimson Cup's first appearance in the competition occurs at 2:45 p.m. Saturday, June 1. Crimson Cup earned a bye placement in the national competition with a third-place trophy at the America's Best Espresso Midwest Region competition at Coffee Fest Chicago in 2017. The roaster also earned a second-place trophy at the America's Best Espresso Eastern Championship at Coffee Fest New York in 2016.
Joe Capatosto and Chase Golovan from the Crimson Cup Innovation Lab will pull shots of 1991 Blend for evaluation by a panel of three judges. Espressos will be evaluated for flavor complexity, mouth feel and appeal, and aftertaste.
Competitors will go head-to-head in a winner move on, loser goes home tournament competition. The winner of the America's Best Espresso title will be crowned Sunday afternoon.
"Personal relationships form the foundation of our Friend2Farmer program," Ubert said. "By traveling to meet with coffee farmers, we discover exceptional coffees while obtaining a better understanding of growing conditions and community needs."
About Crimson Cup Coffee & Tea
Columbus, Ohio coffee roaster Crimson Cup Coffee & Tea is Roast magazine's 2016 Macro Roaster of the Year. Since 1991, Crimson Cup has roasted sustainably sourced craft coffee in small batches, sold directly to consumers and as wholesale coffee beans. Through its 7 Steps to Success coffee franchise alternative program, the company also teaches entrepreneurs to run successful coffee houses. By developing a coffee shop business plan, prospective entrepreneurs gain insight into how much it costs to open a coffee shop. Crimson Cup coffee is available through more than 350 independent coffee houses, grocers, college and universities, restaurants and food service operations across 37 states, Guam and Bangladesh, as well as the company's own Crimson Cup Coffee Houses. To learn more, visit crimsoncup.com.
About America's Best Espresso
America's Best Espresso Competition is the tri-annual vehicle that will determine and acknowledge the three best coffee roasters in North America. Every other year, the top four from each of the previous six competitions will come together for the Grand Championship where America's Best Espresso National Champion will be crowned. The 2019 National Championship will take place at Coffee Fest Indianapolis. All coffee roasters in the U.S. and Canada may apply to compete. The competition is broken into three regions that will compete once per year. To learn more, visit coffeefest.com.