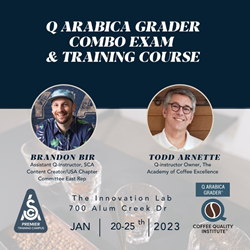 "We are excited to present this comprehensive exam and training course! This is a terrific opportunity for coffee professionals to further their knowledge and advance their careers in the specialty coffee industry." - Brandon Bir, Crimson Cup's Sustainability Director and Assistant Q Instructor
Columbus, Ohio (PRWEB) January 08, 2023
Want to take your career in specialty coffee to the next level? Then sign up for the Q Arabica Grader Exam and Training Course to be held January 20 through 25, 2023, at the Crimson Cup Innovation Lab in Columbus, Ohio.
Presented by Brandon Bir, Crimson Cup's Sustainability Director and Assistant Q Instructor, and Todd Arnette, Q Instructor and Owner of The Academy of Coffee Excellence, the program will help prepare coffee professionals to be licensed Coffee Q Graders.
"We are excited to present this comprehensive exam and training course," said Bir, a Specialty Coffee Association content creator and the East Rep for the SCA USA Chapter who holds numerous specialty coffee and tea certifications.
"This is a terrific opportunity for coffee professionals to further their knowledge and advance their careers in the specialty coffee industry."
He noted that many workplaces require their quality control personnel, roasters, green buyers and exporters to be Q Graders.
"Certified Q Graders share a common language of quality used by both producers and buyers," he said. "This language smooths communication throughout the industry and increases access to markets."
Participants in the exam and training course will learn from industry experts, hone their coffee tasting skills and take the test to become an Arabica Q Grader – a highly trained coffee taster who evaluates coffee using SCA cupping standards and protocols.
"The Q Arabica Grader Exam is rigorous, and some students find it difficult to pass all exam portions the first time through," Bir said. "The final day will allow participants to retake certain tests as needed in hopes of completing the certification."
The course will be held at the Crimson Cup Innovation Lab, a certified SCA Premier Training Campus, located at 700 Alum Creek Drive in Columbus, Ohio.
The Crimson Cup Innovation Lab is a state-of-the-art facility dedicated to advancing the specialty coffee industry through education and innovation. As a certified SCA Premier Training Campus, the Innovation Lab offers courses and workshops for coffee consumers and coffee professionals.
The Q Arabica Grader Exam and Training Course is open to coffee professionals with cupping experience. Space is limited, so interested parties are encouraged to register as soon as possible. To sign up, email Brandon Bir, bbir@crimsoncup.com.
About Crimson Cup Coffee & Tea
Founded in 1991, Crimson Cup is at the forefront of the coffee industry. Its attentive roasting, startup support and global partnerships are consciously designed for the greater good of communities around the world. Among other national recognitions, the company has earned 2020 and 2017 Good Food Awards, the 2019 Golden Bean Champion for Small Franchise/Chain Roaster and Roast magazine's 2016 Macro Roaster of the Year.
Crimson Cup travels the world searching for the perfect cup – driven by meaningful relationships, honesty and a shared vision for the future. Its Friend2Farmer initiatives foster respect and decency through mutually beneficial collaboration across local and global communities.
Through its 7 Steps to Success coffee shop startup program, the company teaches entrepreneurs how to open and run independent coffee houses in their local communities. By developing a coffee shop business plan, entrepreneurs gain insight into coffee shop startup costs.
Crimson Cup coffee is available through over 350 independent coffee houses, grocers, college and universities, restaurants and food service operations across 30 states, Guam and Bangladesh. The company also owns several Crimson Cup Coffee Shops and a new CRIMSON retail flagship store. To learn more, visit crimsoncup.com, or follow the company on Facebook and Instagram.