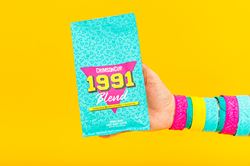 "1991 Blend represents our origins and our journey as a coffee roaster over the past 30 years. Each year, we increase our focus on representing the hard work that local farmers put into growing each crop, and we develop relationships with as many individual farmers as possible." - Greg Ubert
COLUMBUS, Ohio (PRWEB) April 30, 2021
In May 1991, The Fresh Prince was fresh, R.E.M.'s "Shiny, Happy People" ruled the airwaves, the Internet went commercial, and Greg Ubert roasted his first coffee beans.
For May 2021, the Founder and President of Crimson Cup Coffee & Tea kicked off the Columbus roaster's 30thth anniversary celebrations by introducing a new, limited-edition coffee: 1991 Blend. He also teased a series of nostalgic brew bar drinks, coffee shop specials and giveaways.
.
"1991 Blend represents our origins and our journey as a coffee roaster over the past 30 years," he said. "Each year, we increase our focus on representing the hard work that local farmers put into growing each crop, and we develop relationships with as many individual farmers as possible."
To create the new, light-roasted blend, Sustainability Director Brandon Bir and Coffee Buyer Dave Eldridge blended Guatemalan and Peruvian coffees sourced through long-term farmer relationships.
"1991 Blend showcases the hard work of our farmers with flavors of chocolate-covered raisins and smores," Bir said. "It's a really approachable coffee, but nuanced for people who like a more exciting cup."
1991 Blend comes in bright, retro packaging that recalls the vibrant 1990s. "This was the decade that specialty coffee and café culture really took off," Ubert recalled. "It seemed as if a new coffee shop opened nearly every day."
Throughout May, Crimson Cup will unveil innovative brew bar drinks that celebrate the nostalgia of the 90's we all love!
Columbus coffee lovers can also win coffee and fun retro prizes such as t-shirts, enamel pins, slap bracelets and fanny packs.
"To keep up with giveaways and brew bar specials, we invite everyone to download the Crimson Cup App and follow us on Facebook and Instagram," Ubert said.
Among other App exclusives, users can access a retro Spotify playlist with 1990s songs curated by the Crimson Cup team – from the coffee team at the Innovation Lab and Roasting facility to coffee shop baristas.
"Our playlist will lift your spirits with upbeat 90's songs like The Spice Girls' 'Wannabe,'" Bir said.
While supplies last, 1991 Blend can be purchased at Crimson Cup's Clintonville, Upper Arlington and Tallmadge coffee houses, at The Hills Market Downtown and at Weiland's Market in Clintonville. A 12-ounce bag sells for $15.
About Crimson Cup Coffee & Tea
Columbus, Ohio coffee roaster Crimson Cup Coffee & Tea is celebrating 30 years of Coffee + Community. Since May 1991, Crimson Cup has roasted sustainably sourced craft coffee for consumers and wholesale coffee customers.
It is a 2020 Good Food Award winner, 2019 Golden Bear Champion for Small Franchise/Chain Roaster and Roast magazine's 2016 Macro Roaster of the Year.
Through its 7 Steps to Success coffee franchise alternative program, the company teaches entrepreneurs to run independent coffee houses in their local communities. By developing a coffee shop business plan, entrepreneurs gain insight into how much it costs to open a coffee shop.
Crimson Cup also supports life-enriching projects through its Friend2Farmer™ initiatives, promoting the education, health, sustainability and economic growth of small-plot coffee farmers and their communities.
Crimson Cup coffee is available through over 350 independent coffee houses, grocers, college and universities, restaurants and food service operations across 30 states, Guam and Bangladesh. The company also operates several Crimson Cup Coffee Houses and a new Crimson retail flagship store. To learn more, visit crimsoncup.com, or follow the company on Facebook and Instagram.