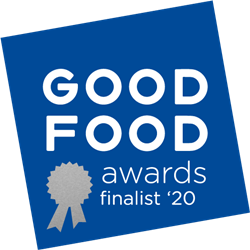 Kudos to the farmers who grow this awesome coffee! We're proud to partner with growers to create a sustainable coffee future.
COLUMBUS, Ohio (PRWEB) November 08, 2019
Ethiopian Kossa Kebena coffee from Crimson Cup Coffee & Tea is a finalist in the 2020 Good Food Awards, which recognize delicious and sustainable craft foods and beverages. Crimson Cup is the only Ohio roaster among 27 coffee finalists.
"We're excited to rank again among the country's top coffee roasters in terms of excellence and sustainable sourcing," said Founder and President Greg Ubert.
Ethiopian Kossa Kebena took home a Good Food Award in 2017 and was a finalist in the 2019 awards. Crimson Cup won the 2019 Golden Bean Small Franchise/Chain Roaster Championship. It also was named 2016 Roast Magazine Macro Roaster of the Year.
"Kudos to the farmers who grow this awesome coffee!" Ubert added. "We're proud to partner with growers to create a sustainable coffee future."
Kebena Kossa farm in Western Ethiopia's Limmu Kossa District grows this award-winning coffee. A member of the Kossa Geshe co-op, the 1,000-hectare farm safeguards the area's remaining dense forest.
"We can't wait to tell the growers they've received yet another award!" said Education and Sustainability Director Brandon Bir.
Bir has worked with the farm since 2016 through Crimson Cup's Friend2Farmer direct trade initiative. The roaster supports environmental, economic and social efforts to sustain crops and communities.
"We developed Friend2Farmer to connect farmers and coffee consumers," Bir said. "Consumers pay more for exceptional coffee. When growers earn more, they can invest in farms and communities."
The Kebena Kossa farm grows heirloom variety coffee trees at altitudes of 5,000 to 6,200 feet. After harvest, growers dry process coffee cherries on raised beds.
"This produces a syrupy body and tasting notes of bright fruit and sweet berries," Bir said. "To bring out optimal flavors, we recommend brewing with a Hario v60. Use 25 grams of coffee to 400 grams of filtered water at 202 degrees."
The Good Food Awards celebrate tasty, authentic and responsible foods. Now in its tenth year, the competition includes entries in 17 categories.
The 2020 Finalists were chosen for crafting food that is good for both consumers and the environment, favoring practices that build soil health for generations to come without the use of pesticides and herbicides.
Finalists emphasize fairness and transparency from seed to plate, promoting safe and enjoyable working environments, and safeguarding biodiversity by creating products free of genetically modified ingredients.
Award winners will be announced January 17, 2020 at the Good Food Awards ceremony in San Francisco.
Ohio coffee lovers can enjoy Ethiopian Kossa Kebena at Crimson Cup Coffee Houses. Shops in Clintonville, Upper Arlington and Tallmadge, Ohio feature this award-winning coffee on the November menu. On the Crimson Cup website, 12-ounce bags of coffee retail for $16.50.
About Crimson Cup Coffee & Tea
Columbus, Ohio coffee roaster Crimson Cup Coffee & Tea is the 2019 Golden Bean Champion for Small Franchise/Chain Roaster and Roast magazine's 2016 Macro Roaster of the Year. Since 1991, Crimson Cup has roasted sustainably sourced craft coffee in small batches. It sells coffee to consumers and distributes wholesale coffee beans.
Through its 7 Steps to Success coffee franchise alternative program, the company also teaches entrepreneurs to run successful coffee houses. By developing a coffee shop business plan, entrepreneurs gain insight into how much it costs to open a coffee shop.
Crimson Cup coffee is available through over 350 independent coffee houses, grocers, college and universities, restaurants and food service operations across 37 states, Guam and Bangladesh. The company also operates several Crimson Cup Coffee Houses. To learn more, visit crimsoncup.com, or follow the company on Facebook, Instagram and Twitter.