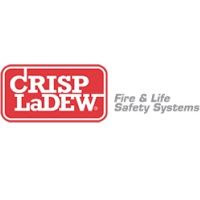 FORT WORTH, Texas (PRWEB) December 04, 2019
According to statistics by the Small Business Administration, more than 70 percent of all small businesses fail before their 10th year in business, but thanks to hard work and commitment to providing customers excellent customer service, Crisp-LaDew Fire & Life Safety Systems is celebrating its 86th year in business.
"We're very excited to celebrate 86 years of serving our customers," said Cullen Crisp, owner and spokesperson for Crisp-LaDew Fire & Life Safety Systems. "We consider it an honor to be in the position we're in, and we look forward to what's to come in the future."
The company's services include fire alarms, fire sprinkler systems, fire suppression systems, Crisp LaDew fire extinguishers-portable, back flow prevention, life safety security, and more.
Crisp-LaDew Fire & Life Safety Systems, according to Crisp, is the leader in the design, fabrication, and installation of fire sprinkler and suppression systems for commercial and industrial buildings. Crisp-LaDew also offers inspection, testing, and maintenance for all types of fire sprinklers and suppression systems.
When it comes to fire alarms, Crisp stressed that its solutions are tried and true for quality and reliability.
"We have ramped up our wireless fire alarm technology, plus we are full service for all fire alarm needs; monitoring, inspecting, testing and maintenance and new systems design and installation," Crisp said, before adding, "Crisp-LaDew, your fire protection company, is also your one-stop shop for CCTV video surveillance, access control and EXIT/emergency lighting solutions. Providing new systems design and installation, system upgrades and service, repair and maintenance on all manufacturer's systems."
For more information, please visit crispladewfire.com/crisp-ladew-company-profile/products-services/.
About Crisp-LaDew Fire & Life Safety Systems
We are known as one of the best in the business of fire system installation serving Dallas/Ft Worth, Stephenville, Weatherford, and Mineral Wells areas.
Contact Details:
Cullen Crisp
5201 Saunders Road
Fort Worth, TX 76119
United States
Phones:
(817) 572-3663 (Fort Worth)
(214) 349-1927 (Dallas)
(817) 572-3931 (Granbury)
Source: Crisp-Ladew Fire Protection Company