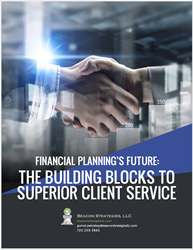 "Advisors quickly realize that rapidly advancing technology is a compliment, not a competitor, and allows for more client-centric, revenue-generating activity. It's also useful in calming clients during current market craziness, ensuring poor returns aren't compounded with emotional decisions."
DENVER (PRWEB) October 29, 2020
Beacon Strategies, LLC, a leading research and consulting firm to enterprise wealth firms, technology solution providers, and investment product manufacturers, today released a groundbreaking whitepaper on current and future innovation in the delivery of comprehensive financial advice.
Titled Financial Planning's Future: The Building Blocks to Superior Client Service, it examines new service models employed before and during the COVID-19 pandemic, the customer experience (CX) increasingly demanded by consumers, and the way in which the financial services industry is reacting.
It also includes a Financial Planning Assessment of major financial planning technology offerings now available to advisors.
"Nearly every industry is now dominated by technological innovation—financial services is no different, with many predicting a flood of new software and services as a result of all that's recently happened," Chip Kispert notes. "Advisors quickly realize that rapidly advancing technology is a compliment, not a competitor, and allows for more client-centric, revenue-generating activity. It's also useful in calming clients during current market craziness, ensuring poor returns aren't compounded with emotional decisions."
Looking to other industries for best-practice use cases, the whitepaper includes online delivery, subscription-based models, and the use of "block offerings" similar to those currently employed by Netflix and Hulu for better customization and anticipation of investor needs.
"With the right balance of customized investor technologies and irreplaceable advice that advisors can bring to the relationship, it can lead to greater customer satisfaction and better outcomes overall, something clients are desperately searching for—especially now," Chip Kispert adds.
To access the paper go to https://beaconstrategiesllc.com/whitepapers/financial-planning/
About Beacon
With access to hundreds of top financial decision-makers, executives at solutions vendors, and senior managers at clearing and custody firms, Beacon Strategies LLC. is a focal point for defining cutting-edge industry trends and best practices. Since its formation, the firm has expanded its staff and expertise in technology infrastructure planning, change implementation, and advisor-facing applications and reporting systems.
Beacon's consulting and customized research clients include broker-dealers, technology solution providers, and investment product manufacturers. All Beacon clients receive real, actionable advice and perspectives that combine qualitative strategic and environmental analysis with a quantitative market and product research. For more information, visit https://beaconstrategiesllc.com