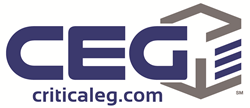 "Session attendees will learn that achieving efficiency gains and savings doesn't always require costly overhauls. Sometimes it may be as simple as plugging some holes. But in order to solve the problem, you've first got to see it." -- Rob Huttemann, SVP of Operations, CEG
GLASSBORO, N.J. (PRWEB) August 12, 2019
Critical Environments Group (CEG), a leading provider of data center and IT environment infrastructure optimization solutions, will be represented at the 2019 Critical Facilities Summit by its Senior Vice President of Operations Rob Huttemann and Senior Solutions Engineer Anthony Gennello. The pair will host a session entitled "Containment Solutions that Don't Bust Your Budget" on Wednesday, September 25 at 2:30 p.m. in Dallas, Texas.
"The benefits to optimizing airflow in a data center are numerous, with the most attention-getting reason being up to a 30 percent energy savings," says Rob Huttemann, SVP of Operations for Critical Environments Group. "Session attendees will learn that achieving efficiency gains and savings doesn't always require costly overhauls. Sometimes it may be as simple as plugging some holes. But in order to solve the problem, you've first got to see it."
CEG's session will explore the concept of Digital Twinning, one of the latest technologies to emerge from Industry 4.0. Using the power of CFD, data center operators can solve previously unseen airflow issues in real-time while simultaneously creating 'what-if' scenarios for future deployments.
For more information on this topic and expert speakers, visit the event's presentation page.
About Critical Environments Group
Critical Environments Group (CEG) enables its clients to effectively manage, maintain and optimize their data centers and other IT environments. We're meeting the needs of this rapidly evolving industry by achieving value for channel partners or end users throughout the data center lifecycle.
CEG has been recognized by Inc. 5000 as one of America's fastest-growing private companies. The Company has also been named to the Philadelphia Business Journal's 2018 Soaring 76 list and NJBiz Magazine's 2018 Fast 50 List. For more information about CEG and its intelligent solutions for critical environments, please visit http://www.criticaleg.com.