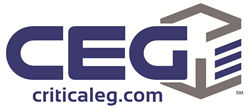 "The hybrid Data Center model elevates the need for a DCIM tool-set that provides environmental insight whether the assets are in our facilities or a vendor's real estate portfolio. Real-time monitoring will help you make informed decisions." -- Andrew Graham, Director of Data Center Solutions, CEG
GLASSBORO, N.J. (PRWEB) November 20, 2019
Critical Environments Group (CEG), a leading provider of data center and IT environment infrastructure optimization solutions, is pleased to announce that it will be represented at the Data Center World 2020 by its Director of Data Center Solutions Andrew Graham. Mr. Graham will discuss the importance of real-time environmental monitoring in all types of data centers, but with a focus on those with hybrid data center strategy that includes a mix of on-premise, hosted facilities and cloud-based applications. Data Center World 2020 is in San Antonio, Texas from March 16-19. Mr. Graham's presentation will be on Tuesday, March 17 at 1:50 p.m. Read the full presentation overview here.
Joining Mr. Graham on the presentation stage will be Cam Rogers, Director of International & Western U.S. Sales for RLE Technologies.
"The hybrid data center strategy hasn't diminished the need for effective Data Center Infrastructure Management," says Andrew Graham, Director of Data Center Solutions for CEG. "In fact, the hybrid model elevates the need for a tool-set that can provide environmental insight whether the assets are in our facilities or a vendor's real estate portfolio. The need for real-time environmental information and where you have available capacity is complex but critical. Real-time monitoring can provide the details you need to make informed decisions."
Visit Data Center World 2020 for more information about the conference. To learn more about the speakers, visit Andrew Graham's Presenter Profile and Cam Rogers' Presenter Profile.
About Critical Environments Group
Critical Environments Group (CEG) enables its clients to effectively manage, maintain and optimize their data centers and other IT environments. We're meeting the needs of this rapidly evolving industry by achieving value for channel partners or end users throughout the data center lifecycle.
CEG was recently named by US Business News as the 2019 Top Critical Infrastructure Consultancy in the Eastern U.S. The Company was also recognized by Inc. 5000 in 2018 as one of America's fastest-growing private companies, as well as the Philadelphia Business Journal's 2018 Soaring 76 list and the NJBiz Fast 50. For more information about CEG and its intelligent solutions for critical environments, please visit http://www.criticaleg.com.