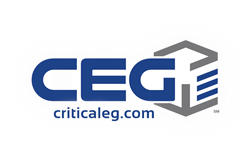 Green data center technologies that address power conditioning and airflow optimization not only save energy, they also improve resiliency and availability." -- Andrew Graham, Director of Data Center Solutions for CEG
GLASSBORO, N.J. (PRWEB) February 27, 2019
Critical Environments Group (CEG), a leading provider of data center infrastructure optimization solutions, will be represented at this month's Data Center World Global 2019 by its Director of Data Center Solutions Andrew Graham. Mr. Graham will be part of an expert panel discussing ways to improve availability and resiliency in the data center while reducing energy demand. Data Center World Global 2019 is in Phoenix, Arizona from March 19-22. Mr. Graham's presentation will be on Tuesday, March 19 at 1:00 p.m.
Joining Mr. Graham on this panel of industry experts will be Edward Adkisson, President of C3 Green Energy; Joe Landrette, Market Manager, Ventilation and Air Conditioning for ebm-papst; Christopher LoPilato, CEO of Onics Energy Solutions.
"When organizations first started evaluating greener data center infrastructure solutions, there was lots of hype surrounding improvements such as eco-mode UPS systems or evaporative cooling," says Andrew Graham. "While these previous green technologies improved efficiency, they may not have increased resiliency or sustainability. But greener technologies that have been more widely accepted around power conditioning and airflow optimization improve resiliency and availability while also saving energy."
For more information on this topic and expert panelists, visit the event's presentation page.
About Critical Environments Group
Critical Environments Group (CEG) enables its clients to effectively manage, maintain and optimize their data centers and other IT environments. We're meeting the needs of this rapidly evolving industry by achieving value for channel partners or end users throughout the data center lifecycle.
CEG has been recognized by Inc. 5000 as one of America's fastest-growing private companies. The Company has also been named to the Philadelphia Business Journal's 2018 Soaring 76 list and NJBiz Magazine's 2018 Fast 50 List. For more information about CEG and its intelligent solutions for critical environments, please visit criticaleg.com